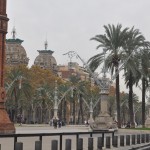 I have to be frank. FBI Agent John Connolly is not high on my list of favorite people. He was convicted in Boston of giving a bribe to his supervisor that came from Whitey Bulger; and of several things he did after he retired from the FBI involving working with Brutalman Kevin Weeks trying to help his former top echelon informant, Stevie Flemmi.
These were not all the charges. The serious charges were those of obstruction of justice relating to murders and extortion. These all floundered. The Boston jury acquitted him of those.
One acquittal in particular is of note: the obstruction of justice relating to the murder of John Callahan. Connolly was convicted of a variant of that charge in Florida. The idea that no person can be tried twice for the same offense somehow doesn't apply to Connolly.  Although he was prosecuted by Florida and not by the U.S., a U.S. prosecution team was part of the Florida prosecution. It seems that a lot of things that apply to most of us don't apply to Connolly.
My inability to have a fondness for Connolly is that he was involved in certain things as an FBI agent that I think went far beyond any permissible action by a law enforcement official even though they were sanctioned by the FBI. These relate to acts he did to protect Whitey Bulger which caused grievous harm to others. He undermined investigations, participated in the investigation and indictment of an innocent state trooper of 23 years service, John Naimovich, and in the events surrounding the prosecutions of Myles Connor, the latter aimed at undermining the Norfolk District Attorney's office where I worked.
As you may surmise I hold no brief for him.  I bring that up because even though I'm not a fan of John Connolly, I see in his case, as I saw in Greig's, people losing their way when it comes to doing justice. Whether we like or dislike a person, we should always want justice to be paramount in dealing with that person. Haven't we been brought up to believe America  stands for "liberty and justice for all," not just for those in favor with the feds or media, or connected to politicians, but even for the most venal.
An earlier comment to my blog by William Connolly, who unlike me is a big defender of John Connolly, called to my attention a news report that you can see on YouTube.  It relates to the sentencing of John Connolly to 40 years in prison in Florida for, as I mentioned, a crime a Boston jury acquitted him of.  It's not so much that he was tried twice for the same crime by federal prosecutors that is unjust, it is that he was convicted in Florida for a crime based on a judge's admission that he gave the wrong law to the jury and had he given the right law, Connolly could not be convicted.
The judge noted that for Connolly to be convicted under the crime for which he was charged the "defendant had to possess the actual murder weapon at the time of the murder was committed  [in Florida] and the defendant was in Massachusetts at the time the victim was killed."  Then even though the  jury had no right to convict Connolly, the judge noted that Connolly's lawyers failed to file a motion in time to toss out the verdict so he upheld the wrongful conviction.
Here's what happened.  First, the jury found Connolly not guilty of first degree murder conspiracy. It did convict him of second degree murder. Apparently an essential element of that charge is that Connolly must have possession of a gun at the time of the murder.  The judge wrongfully instructed the jury that Connolly did not have to pull the trigger himself or even be present at the crime scene to be convicted in Callahan's killing. As we've seen on YouTube, he recognized his mistake after the jury convicted Connolly.
It's like being charged with an armed robbery and the judge instructing the jury it could convict you if you weren't armed. The jury does and goes home. The judge realizes his mistake. He then blames the lawyers for not correcting him. The defendant is punished for something he didn't do.
In effect, Connolly was wrongfully convicted. He did not commit the crime for which he was found guilty. You'd think they'd be a rush to correct this from either the federal prosecutors or someone in Florida.  We know they don't like Connolly but that's never been a reason to imprison someone. There's little justice in having a person in prison for a day for a crime he did not commit never mind forty years.
I've mentioned this before. The Florida appeals court upheld the Connolly's conviction but it did not write an opinion explaining how if a jury wrongfully convicts a person because a judge wrongly instructs them that person should be in prison for 40 years. It really seems something is rotten in Florida – an unseen dirty hand working in the background to keep Connolly in jail.
How can it be that Florida is so indifferent to Connolly's plight?  Are all the judges, lawyers and other legal officials in Florida so blind to justice that there is no outrage at the appeals court's silence in the face of this?  Is the Florida media so intimidated that there is no one that feels that this wrong should be righted?It's over four years since Connolly was convicted. How is it the prosecutors in his case knowing this have done nothing. Fred Wyshak commented after Connolly's trial,"evil triumphs when a few good men fail to act."
But the truth is, "evil triumphs when good men become evil."  Wrongly taking years of freedom away from Catherine Greig and John Connolly is a plain evil act.  Justice succumbs when people sworn to do justice do otherwise.