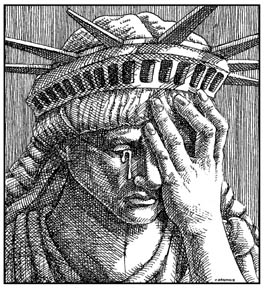 I have some people I know who are big Trump supporters. On occasion, they send me emails that they circulate among themselves. I assume they do it because they believe me to be a liberal and perhaps think they are throwing a friendly jab at me every once in a while. I don't mind since mostly they are innocuous comments on Democrats.
These are also the people who have fallen in love with the philosophy of the Russian atheist  Ayn Rand whose family lost its business in Russia to the communists so they fled to America and were die-hard enemies of communism as practiced back in their homeland. Rand looked at the world through narrow lenses dividing it into the "good people", the wealthy, usually railroad, mine and factory owners and the rest who she considered some type of moochers because they thought they should be paid a living wage. These individuals identify themselves with the "good people" and look down upon the other Americans.
Ayn's "good people" build nirvana somewhere in the Colorado Rockies to escape from the rest of the Americans who are portrayed as disease infected dirt-balls. Money equals goodness — sort of a take off on the old WASP idea. It is no wonder then that they support the candidacy of Donald Trump who plans to make America Great Again by walking over all those who the "good people" don't believe contribute their fair share to our country. Of course the first step the Trumpeteers are hoping for is a reduction in their taxes which means that others than the "good people" will have to pick up a greater burden.
As those who follow me know I am writing a book and as part of that I have gone back to the turn of the century (19th into 20th) America. Those were the times of the Jim Crow laws. One device effectively used was to parody African-Americans in cartoons to make them look a little bit less cultured, very ignorant and different from other Americans. Those who remember the Amos 'N' Andy shows know blacks were shown as little more than moronic clowns which was up until the mid 1950s and during a time when few other blacks appeared on television or in decent roles in Hollywood.
Slowly white America turned from its black exclusionary policy into opening the doors more and more despite fierce opposition from some. It was not until the Voting Rights Act of 1964 that the wholesale disenfranchisement of African-Americans in the South was addressed. Imagine, American citizens who were not allowed to vote because of their color and some who peacefully protested were beaten down with clubs. Gains have been made over the years to a less racist society into one where we are more likely to judge people by the content of their character and not the color of their skin.
Now these Trumpeteers  who email me on occasion are all college educated and some have advanced degrees. They are people who you would expect do not dwell among those wallowing in the muck of racism. So imagine my surprise, and chagrin, when I  received an email with the following cartoon attached which seemed to have met with universal approval among them.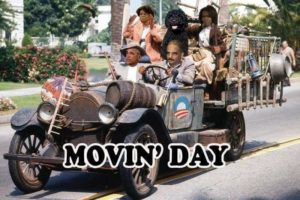 I had to respond: "Some would suggest that this is the type of racist thinking that infects our society.  Perhaps you should pause and think if you were black if you would find much humor in that. "
I then wondered how much of that type thinking was involved in deciding to vote for Trump. It could portend very scary days ahead!