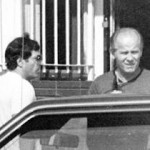 There were good things and bad thing for Whitey in Judge Casper's memorandum and order and surprising things for me.
Anyway, it's best to start with the surprise. Now I've been dealing all along with the indictment that charged Whitey with the nineteen murders and I have been considering his chances with respect to each charge. I've told how I don't believe there's any chance Whitey will be convicted of the murders that Howie Winter, John Martorano, Jimmy Sims, and the guy from Somerville did on behalf of Gerry Angiulo when he decided to sic them on Indian Al.  Martorano who was doing the machine gunning was the only one putting Whitey at the scene and he was allegedly in a crash car. I felt confident a jury would not buy Martorano's story.
Then I read this in Judge Casper's ruling on the motion: "In a 111-page, 48-count indictment, the government has charged Bulger with participation in a racketeering conspiracy involving, among other crimes, murder, extortion and money laundering (Count 1) and separate charges of racketeering, money laundering, extortion, and a range of firearms crimes (Counts 2-27, 39-40, 42, 45 and 48)."
I have to admit I had no idea that was the case. When this indictment came down I don't recall seeing all those charges. I have to wonder what I've been doing writing about the chances of Whitey being acquitted. There is no chance that any jury can be found that won't throw the Feds a bone and come back with one guilty; and, as we seen if it comes back with only one Whitey will still be sent off to the deepest and darkest prison in America for the rest of his life.
The bad thing is that Carney and Brennan (C&B) lost their chance to put up a defense of immunity. That means many of the witnesses they intended to call to show this will not be able to testify. This makes their task more difficult because no matter how sleazy the Feds' witnesses are; and no matter how futile the hope for a runaway jury; there's little chance the jury can overlook the bodies that were unearthed near the Neponset River or Tenean Beach.
I suggest you can't say C&B lost this defense. It seemed to me they never set about to find it. Judge Casper talked about it as being evolving which is another word for changing form. C&B never seemed to know from one hearing to the next what it was asserting as its defense. Every time the prosecutor would bat down one balloon they floated they seemed to come up with another one that was slightly different. Judge Stearns tried to find out and not hearing anything had to assume it there was nothing there and he ruled it out.
Judge Casper opened the door to let C&B try again but she noted C&B "declined any pre-trial hearing regarding [Whitey's] claim of immunity on the grounds that "[t]he defendant will not request an evidentiary hearing that the court is not authorized to conduct" and further that Whitey "would not participate in any pre-trial evidentiary hearing determinative of the immunity issue . . . ."
Assume C&B are correct that the court has no authority to conduct the hearing (which is highly doubtful). They must recognize the court does have the authority to exclude evidence they want to introduce from the purview of the jury. So what they hoped to gain with such a losing position escapes me especially since the burden is on the defendant to establish the terms of his agreement with O'Sullivan.    
The good thing for Whitey is that Judge Casper is a tolerant person. Even though C&B have slammed the door shut in her face, she's not taking umbrage. She leaves the door open for them to recognize that their present position avails them nothing.  As a final good will gesture, Judge Casper gives the C&B team a helpful suggestion.
She said look guys, immunity is out but "there are related defenses which Bulger could present to the jury." She then spelled them out: the defense of public authority and the defense of entrapment by estoppel. Going further she said even though C&B say they don't want to raise those defenses, she'll give them until next Monday to reconsider their position.
This is the last chance for C&B to delay the start of the trial (outside of some Whitey illness). Keeping in mind their goal has been to delay the inevitable, the big question now is will they go for it. To get it they have to put Whitey on the stand. It'll be a long weekend for C&B to figure out what was the deal between Whitey and O'Sullivan.