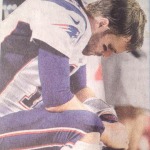 Stunning evidence of the folly of Bob Kraft who decided to pocket 6.5 million dollars by getting rid of a high paid player who wouldn't agree to take less money for the honor of working for the Kraft team fell on my driveway this morning.
My son, the one who doesn't read my blog, decided that I'd enjoy having the Wall Street Journal delivered to my house so he went ahead and ordered it for me. Now it mysteriously lands in my driveway six days a week. He got the idea because he remembers I used to like to read the newspapers delivered to the house. In the old days that was true but it's a long time since then. Back then I had a friend John K who had just about every paper on the East Coast delivered to his house. Sometimes when I'd drive him home from work I'd have to lend him a quarter so that he could buy the afternoon newspapers. How many of you remember them? By the way, he'd always walk into my office the next day and pay me despite my suggestion it was not necessary.
Today as I read the paper on page D-10 I saw a story was headlined: "Here's the [Sad] Story Of a Man Named Brady." It revolved around what is called yards per pass attempted (YPA) and deep throw yards per pass attempted (DTYPA). The NFL is catching up with MLB in statistics. Remember when we used to have just a batting average and runs batted in, RBIs, to decide if a player was any good. Now there seems to be hundreds of different metrics yet it all boils down to the first two as the only things that really count.
Now quarterbacks aren't judged by wins and completions but by YPA and DTYPA. Here's a look at the chart that was in the paper.  (Click on it to enlarge)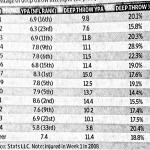 The chart shows Brady's figures are down but it's still early in the season and I don't put much credence in them at this time. What I was interested though was finding out how the Mankins trade affected Brady's statistics. So I took his NFL rank for YPA and his DTYPA for the years 2001 through 2004 and the figures for 2005 through 2013 when Mankins was on the team.
The NLF rank for YPA for Brady before Mankin is around 15th; up through last season with him it was 8th. The DTYPA before is 10.2 and with him is 12.35.  You can't take a grizzly bear and replace him by a cub and expect the person standing behind him not to have his confidence affected.
There's an even more interesting statistic. Remember that guy Wes Welker who the team didn't want to keep because of money issues. He was on the team 2007 to 2012. Brady's NFL rank for YPA when he was snagging balls is about 4th best and his DTYPA is 13.16.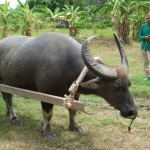 Bob Kraft reminds me of the tale of the Ukrainian farmer who had this ox that did all his work around his farm but he felt that the cost of feed was too much. So he cut his feed in half and for a while the ox performed just as well. He then figured he'd save more money and cut it in half again. Again the ox seemed to struggle along so he cut it again in half. Eventually the Ox died.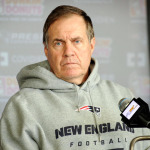 Kraft's well on the way to doing that for the Super Bowl hopes of the Patriots. Loyal employee Belichick tells us it's for the good of the team. It didn't look like he thought that looking at his face last Monday night.
Despite Brady's woeful figures to date 33rd in YPA rank this year and DTYPA of 3.8 I still look for him to win Sunday night and start improving. The only thing that will stop that is Giselle. She's not too happy that the team has put Tom in this pickle. Both are seeing their stars dim. Maybe they'll decide it's time to move on and settle out West. Who needs the New England winters.