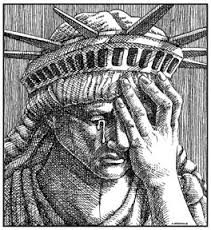 Do you remember Romney talking about the other 47. Looking back we'd have to say he was quite prescient. Who'd ever believe he was talking about 47 U.S. Senators who seemed to have abandoned the leadership of an American president in preference to that of a foreign ruler.
You all know the background. The Israeli leader Netanyahu comes here to embarrass our president. The result is 47 people in the Senate going to bat for him by writing a letter seeking to undermine our president.  He, by the way, is trying to keep us out of war. The 47 for some reason want one.
Fortunately for all those who are confused by what's going on, a person described as "a resident scholar at the American Enterprise Institute (AEI), a trustee at Freedom House, a board member of the Jewish Institute for National Security Affairs (JINSA), a signatory on Project for the New American Century (PNAC) letter-writing campaigns, . . . [who is] unabashed in his one-sided support of Israel." has made it quite clear.
You have to remember the PNAC. Its members wrote a letter to President Clinton seventeen years ago in January 1998 (when Netanyahu was the prime minister of Israel as he is now) decrying American policy toward Iraq and noting: "if Saddam does acquire the capability to deliver weapons of mass destruction, as he is almost certain to do if we continue along the present course, the safety of American troops in the region, of our friends and allies like Israel . . . will all be put at hazard. . . . The only acceptable strategy is one that eliminates the possibility that Iraq will be able to use or threaten to use weapons of mass destruction. . . . this means a willingness to undertake military action. . . . "  Netanyahu's fingerprints were all over the letter.
Clinton didn't fall for the con. We had to wait until George W. Bush got elected president. He did get conned. In fact, some of the signers of that letter were part of his administration: Donald Rumsfeld, Paul Wolfowitz, and Richard Perle among others. They made the plans for Iraq's invasion which took place twelve years ago almost to today's date. As you know, the place is still a mess and the U.S. troops are back fighting there.
This PNAC person whose background I set out is Joshua Muravchik who is cut from the same cloth as all those other PNAC people. He was given the lead editorial opinion in Saturday's Washington Post. His column was headlined: "War with Iran is Probably our Best Option."  
He writes:  "The Iranian regime . . . is bound to continue its quest for nuclear weapons by refusing any "good deal" or by cheating. . . . [Iran] is akin to communist, fascist and Nazi regimes that set out to transform the world. . . . Otherwise, only military actions . . . have halted nuclear programs. Sanctions have never stopped a nuclear drive anywhere. . . . our only option is war . . . we can strike as often as necessary. [If Iran retaliates] we would respond by targeting other military and infrastructure facilities."
Muravchik envisions a perpetual attack on Iran. He expresses no concern for the many Iranian and Americans who will die in that war.
The United States warred on Iraq in part to protect Israel as the PNAC letter stated. Apparently 47 Senators learned nothing from that folly. They seem unable to see that the same people who thrust us into that disaster are back at it again.
We've got to thank Joshua Muravchik for laying out what the speech of Netanyahu was all about. He wants us to war on Iran. If Obama won't give it to him, he knows the next Republican president, like Bush, will do his bidding.
The senator who composed the letter, Tom Cotton, has been in the senate for two full months. How did he get there? Where did he get such clout to have 46 other senators sign on to his letter. Here's one big reason: "He received $700,000 for his senate campaign from the Emergency Committee for Israel. That's correct — $700,000! Such an exorbitant amount of money ensures that Cotton is one of the most pro-Israel senators in Congress. During the 2014 Israeli invasion of Gaza, when over 500 Palestinian were killed, Cotton called the Israeli defense force "the most moral, humanitarian fighting force in the world." " (Others have said he received almost million dollars; and over 2,000 Palestinians were killed including almost 500 children)  
As I've noted before, the friends of Israel, people like Muravchik, Tom Cotton, and Sheldon Adelson are buying the United States armed forces to fight a war that Israel wants. Money for American blood.  We've come a long way since 1776.
Remember our Revolutionary War and how the British hired bout 30,000 Hessian troops to fight against our American colonialists. An article notes: "Hiring a  foreign army was not unusual in the eighteenth century." Back then the German state of Hesse-Cassel was paid by the British for use of its troops.
Israelis has taken the 18th Century practice into the 21st Century and changed it a bit. It made an even better deal for themselves than the Brits. It hopes not only to get our troops to fight its perceived enemy; it also expects us to continue to pay it a few billion dollars every year to have our young warriors die for it.