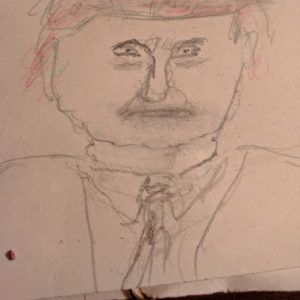 Yes, a very troubled man happens to have been elected president of the United States by a discordant group of discontents. It seems we will be stuck with him for longer than many weak stomachs can hold out. Unfortunately there are sick days in the offing.
Calvin Coolidge once said the business of America is business. A true capitalistic statement if ever there was one. Until some wiser judges gained seats on the Supreme Court breaking the hold of the White Anglo-Saxon Protestants we were treated with decisions like those that ruled that the laws prohibiting child labor interfered with the right of contract between employer and employee and thus were unconstitutional. Only a Trump-WASP could believe there was equality in bargaining position between a 13-year-old boy sorting coal and the mine owner.
So as they say as stupid thinks stupid does. Our bright star president happened to attend a meeting of the heads of state of the NATO member states. After having been treated like royalty by America's newly found good friend the Saudis (how many of them were involved in 9/11) who went right to his weak spot his love of himself (he's so bad Melania refuses to hold his hand); and they sent him off to Israel where Netanyahu also played to his conceit while laughing up his sleeve at his imbecilities; and then on to the Pope for his short private session (Obama's was 50% longer) where the Pope swallowed hard even to look at him his head swelled so much it was difficult getting him onto Air Force One for his trip to the NATO meeting of equals.
There Trump found himself lost at sea with these other heads of state who were not sycophants. From all reports they were highly unimpressed with the amateur lecturing them. The Brussels meeting was especially not to Trump's liking because the streets were lined with protesters; he liked his Saudi experience where nary a word was heard from the people while the autocratic sheikhs showered him with praise.
Democracy has a way of puncturing an ego. Did you see how like a hoodlum he shoved the premier of Montenegro out of his way because everyone was ignoring him? Did you notice how the newly elected French leader Macron snubbed him in favor of Merkel and other European leaders?
Trump is totally at a loss dealing with bright people who speak their minds. He likes toadies like the Arab leaders who are looking for things. With free leaders he is incapable of doing other than sticking his head up into the clouds while those around him chat away in a friendly manner.  He's the prototype of the "do you know who I am" type person.
Without the faintest understanding of diplomacy he set about a speech dunning the leaders of these democratic nations so unlike his way of dealing with Xi Jinping. Putin, Duterte, el-Sisi, and the Arab monarchs. Didn't you notice his contempt for freely elected leaders.
Doesn't Trump comprehend that we need NATO more than it needs us. it was the peace in Europe that NATO brought about that allowed America to thrive.? Is he aware we brought down the evil empire of the Soviet Union through our alliance with Europe?
That's the problem with business men who only think of the bottom line and are incapable of placing a value on intangibles like a free, peaceful and stable Europe. Trump is a petty and troubled man. He is unable to see any value in things most free people appreciate. He views everything in dollar and cents.
He could not but notice that he was not considered the leader of NATO. It was Merkel. Of all things, a woman had bested him. She was the one the others were drawn to. Was that is the reason for his foolish attack on the Germans calling them evil because of their auto industry? Does Trump know how many German auto plants have located in America? Is he going to force them out?
Of course, the worst part of his NATO visit was his silence on coming to the aid of a fellow NATO country  if one is attacked by Russia. Every president since Harry Truman has made that commitment. Trump waffled on it.
Reagan told Gorbachev to tear down the wall in Berlin; Trump is telling Putin NATO may not have America's help if it attacks its neighbors. Is that Trump's way of paying back the favors Russia gave him in his run for the presidency? He'll let it have Estonia for a bargain price.
One thing is clear. Trump finds friends among the dictators and hostility among the democratically elected leaders. Who ever though America would have such a troubled leader incapable of relating to fellow democratically  elected leaders? Who would believe our president is a laughing-stock within the corridors of Europe? Whoever thought our democracy was so fragile that such an embarrassment could occur.