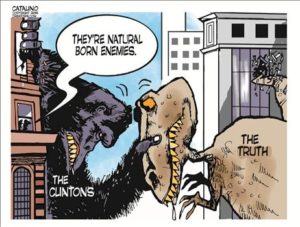 The American people have no objection to a woman being in the highest office in the land. They do have problems with just any woman occupying that office. In the same election when the American people denied that office to one particular woman, they elected three minority women to the Senate. Women are near making up 25% of that body. That's not too shoddy when you consider it has mostly been an old white man's club.
Hillary Clinton did not lose because she was a woman. She lost because she was Hillary Clinton. She would not have been in that position to run for the office had she not been married to Bill Clinton. When she was a younger women back in 2008 she lost in a Democratic primary to Barack Obama a relatively unknown junior senator.
An article back in June 2008 set out what it believed the reasons why Obama defeated her. Five reasons in favor of Obama were: his message for change over Hillary's talk of experience, his superior organization, his coolness under fire, his candor and truthfulness, and his respect for voters. It said Clinton lost because she: had no respect for the voters, poor strategy, weak management, arrogance and sense of entitlement.
The only thing that basically changed was she gained in the area of being seen as lacking candor and truthfulness. The article said that when it was clear Obama was going to get the nod "both Clintons were so far inside their narcissistic bubble that longtime friends didn't dare tell her to quit in recent weeks because they knew she would never speak to them again. "
She could not win the Democratic primary in 2008 when only Democrats were running; why was it thought she could win the national election? She should have won because she was running against the only candidate who was more disliked than she was. A candidate put in the race by her husband Bill.
What people in the media and elsewhere miss is that neither she nor her husband are very well liked outside of the inner circles of the Democratic Party which they have controlled since 1993, almost a quarter of a century. Obama might have been a Democratic president for eight of those years but the Clintons were always operating behind the scene to control much of what happened. As the article noted, you had to follow their lead or be left to bleed.
Bill was a fairly popular president but it was more as a "good ole boy" who you could have a drink with at the Dublin House. When it turned out he sold pardons at the end of his career and his exploits with young Monica in the White House were recalled, except for  die-hard Democrats he really was best kept out of the limelight – he was, as you may recall, only the second president in the history of the United States to be impeached – could you imagine the wife of Andrew Johnson running for president. Bill is the guy who arrives to liven up a party but who no one wants to take home.
Hillary this year still possessed the same old arrogance and entitlement which is now enhanced by her lack of candor. There would have been no Democratic primary this year had not Old Bernie got it into his Socialist head that people were tiring of the Clintons same-old, same-old. He knew Hillary would run with the program of more of the same; he figured he could run because of the sense that people wanted a change. His audience, mostly young voters always ready to grab at something that seems pure who have no historic understanding of the evils of socialism, marched forward with their red and black flag colleagues, and that ragtag outfit also almost beat her.
Hillary put the knock on Comey for undermining her. She would have been better off pointing the finger at her buddy Bill. He reminded people how corrupt the Clintons were with his visit to the Attorney General within a week of the decision on whether to prosecute Hillary for her handling of the emails. Who but someone who thinks the laws do not apply to him would have pulled such a stunt.
Even with that the real blame belongs with Hillary herself. She will never accept that. She will point out she won two million more votes than Trump. You have to remember she is still a young seventy year older and covet the idea of being the first female president.