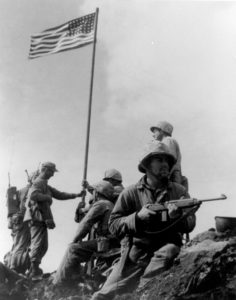 Happy birthday U.S. Marine Corps. Lore has it that it was first assembled in Tun's Tavern in Philadelphia back in the early days of the Republic 243 years ago on this date. The year was 1775 which was during the Revolutionary War. The British would not surrender to George Washington at Yorktown until 1781. Strange as it may seem, the Marines we're not part of that battle as best I can tell but the French were.
It seems somewhat strange the Marines trace their founding back to the days before out country became a country. They did go out of business for a few years in the 18th century before they were reestablished.  But that's neither here or their so we won't let that interfere with a good story.
Although few may remember the Marines almost disappeared prior to the late 1950s . Harry Truman wasn't a big fan. He called the MarineCorps "the Navy's police force" with "a propaganda machine almost equal to Stalin's." He wanted to get rid of it. So did Eisenhower  whose anti-Marine biases were exposed. He said "the Marines should hereafter be allowed to fight only in minor shore combat operations."
I first joined in 1957 and knew nothing about that attitude of Eisenhower. In 1960 I was commissioned a second lieutenant. That fall at Quantico we had to dress up for the birthday in our dress whites. All I recall about it aside from the uniform which we rarely wore was the French Onion soup which I had never had before and found to be delicious.
The next birthday I was at Atsugi Japan  and the one after that at Beaufort, SC.  I have no recollection of celebrating the birthday at those places.  After discharge in 1963 it wasn't until some time in the mid-eightees that I heard about it again.
A judge I knew told.me that a lot of defendants would allege they served in the Marine Corps. She said to check whether they were truthful she'd ask them the date of the Marine Birthday. I remember when she was telling me this story I had no idea when it was.
I think from around that time it became popular. There's an annual Marine Corps lunch every year in Boston. It sells out with the price of a luncheon ticket over a hundred bucks. I attended two or three times in the nineties.
What surprised me were the words "urah" or "oorah" that some seemed to shout. I wondered, "when did that become a Marine Corps thing?" I never heard it when I served.
One thing I looked forward to doing as an officer was walking around with a "swagger stick " It might have been one of the ressonrs I joined as trite as that may seem but I was 17 years old and I thought like a 17 year older.
As luck would have it in early January 1960 the Commandant General David Shoup said: "There is one item of equipment about which I have a definite opinion. It is the swagger stick. It shall remain an optional item of interference. If you feel the need of it, carry it." That was its kiss of death.
Never got to carry one, only celebrated one birthday when active, and never said "oorah." Did serve before they eliminated service numbers. Enlisted number began with 1642 and 079… as an officer. Too bad they did that because I knew almost one million six hundred thousand enlisted and 79 thousand officers served before me including Ted Williams. Did I ever tell you how I met Ted Williams at Mechanics Hall in Boston?
That's for another time. But I'd be remiss today now that I thought about it not to wish my fellow Marines including my brother  a Happy Birthday.