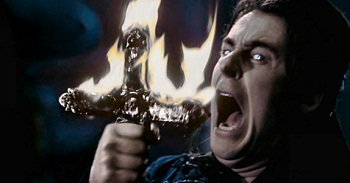 I have to admit I never liked James Carroll. I never liked people who turn on their past especially the people who brought them up. I value loyalty and expect people to remain loyal to their early beliefs, family members and friends. I don't mind if you change your mind about your beliefs, or if you find yourself in full disagreement with family and friends, you never turn on them, betray them or and attack them especially in public. The current of time will lessen the rough edges that aggravate so one must be patient.
James Carroll is a former Catholic seminarian who was ordained a priest after the Church's aggiornamento. He was a chaplain at Boston University when he decided to turn on the Catholic Church. He spelled out all the wrongs he discovered or could dig up and spent decades attacking it. I thought how nicely his association with the Boston Globe fit into its long-standing attitude toward the Catholic Church. That attitude toward Catholics was summed up by one reviewer who noted that in his book about his father he: "leaves the impression that America's involvement in Vietnam was largely the fault of American Catholics." 
Changing and attacking the Catholics came at the same time that he turned against his father. He was a son of an Air Force general and lived the comfortable life of the son of a high-ranking military officer. Rather than appreciating his father might have different views on the Vietnam War he quarreled and embarrassed him in front of others. This caused a permanent rift between them that he allowed to continue up to his father's death.
Carroll became a jettisoner of his early beliefs. He floated around looking for a new anchorage among those who welcomed his writings about the evil of Catholicism and the American military. Ah, how they welcomed in this new convert.
So it wasn't surprising to see him also attack Bill Bulger because he was the brother of Whitey. One reviewer said of him, "He writes, sometimes brilliantly and sometimes in fog, in agonizing certitudes whose hard-won nuances arise mainly from their clash with each other."
His article against Bill initially suggests John Martorano's twenty murders were participated in or done at Whitey's request. (Whitey had never met him during the majority of them nor was Martorano subservient to Whitey.) He said Whitey "had been named a killer as long ago as 1986 in findings of a presidential crime commission." I couldn't find that report. If it any such thing it was not based on any facts because Whitey's murders were unknown at the time.
I have found this: "[D]istrict attorney, Kevin Burke, said the report was 'absolutely worthless' to authorities and contained facts that in at least one case were off by 20 years." Other quotes from the same article are: "Jeremiah O'Sullivan, chief of the Justice Department's New England Organized Crime Task Force, said the report distorted the influence of Irish gangs in Boston. 'The commission wanted to find new bogeymen,' but La Cosa Nostra is still predominant, he said." The report "named three Irish mob factions in Boston as the McLaughlin gang, the Winter Hill gang and another gang controlled by James (Whitey) Bulger of South Boston." The article reported that "Burke said the McLaughlin gang has been out of operation for two decades." We know there was no South Boston gang as distinguished from the Winter Hill gang.
Carroll goes on to say: "A 1988 Globe Spotlight Team report had detailed Bulger's history, including his role as an FBI informant."  He leaves it there. One asks, what did the Spotlight Team say about him being named as a killer? Wouldn't it have mentioned it if it was alleged two years earlier? It didn't. It said nothing about Whitey and any murders.
Carroll tells us what Martorano made public in September 1999. Truth be told, until that time no one had connected Whitey with any murders. But Carroll writes, as if what is known then was known earlier, "large parts of the Massachusetts political establishment willingly winked at the savage behavior of James Bulger." Which begs the question how do you wink at something you do not see. Then he makes this jump (after saying Bill Bulger was not responsible for Whitey;'s crimes, and that "no one can fault [him] for his expressions of brotherly love despite everything) that it "was his winking at the exploits of James Bulger that sponsored everyone's else's."
He then writes about incidents that occurred at the 1992 and 1995 St. Patrick's Day breakfasts years before Whitey was known to be involved in murders where Billy was host and jokes were made about Whitey. Governor Weld made up a ditty to he tune of "Charlie on the MTA" about Whitey talking off after being indicted for racketeering with no mention of murders. He writes: "Weld, in these instances, provides a measure of the depth of this corruption. . . . A wink from him could make even the most compromised FBI agent relax, and it could enable so many others to stifle their misgivings and sign on to this deadly arrangement."
To guys like Carroll a little humor is like the crucifix is to Dracula. Add to that, they think such humor will change people's minds as to the depravity of Whitey because they are so simple-minded. Carroll feels he must protect them.
Carroll, like others of his set, have taken the truth about what we learned about Whitey in 1999 and suggest we must have known it from 1975 up to 1999. He condemns those who were not Cassandras. Yet he was around at that time. He said nothing. Was he too winking at his murders and the corruption?