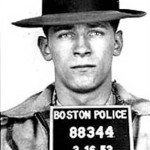 There is no reason, never mind compelling reason, to intentionally copy into one person's informant file information that did not come from that person. Not once, twice or three times, but at least 30 times. It seems indisputable this was done by Agent John Connolly with respect to the informant file of Whitey Bulger.
There is no reason, never mind compelling reason, to intentionally open an informant file on one person without letting that person know such a file has been open. This apparently is the procedure used by the Federal Bureau of Investigation. It seems indisputable this was done by Agents Dennis Condon and  John Connolly with respect to Whitey Bulger.
Corrupt FBI Supervisor Agent John Morris said that telling a person he is an informant is just not done. He indicated it would be a great faux pas in the relationship to do it. You don't tell a person she's an informant but somehow through osmosis she learns. He never told Whitey he was an informant. He told us he was even admonished by Agent John Connolly not to mention it with respect to Whitey when he met him.
Isn't the fundamental idea of any relationship that both parties agree to it and consent to its existence? That is, they know about  it? Can a person marry another without that person knowing? "Oh, by the way Maria, you should know a few years back I put you down as my wife at city hall so you can't marry Pete."
Can I be an employee if the employer doesn't know it employed me? Doesn't it bring a smile to one's faces imagining the reaction of the employer in that situation when I demand my pay?  "Mr Buffet, that was a tough week analyzing all those stocks. You owe me $3,500 — I put in a lot of overtime."
How are those two examples any different from what we now have in front of us: "Jimmy, you know all those years you were duking me a little spending money. Well I decided it'd look better for me if I made you an informant. No hard feelings, I hope!"
There is no objective showing the Whitey knew he was an informant. No photograph, no fingerprints, or no signature. Nothing exists that the prosecutors can point to except the clearly discredited file.
A file set up without any showing Whitey knew it was set up. A file in which we learn a significant amount of reports attributing information to him came from other sources. A file filled with misrepresentations as to its source.
That so many reports contain information that clearly did not come from Whitey, isn't the necessary conclusion that all of the reports are the same. It is impossible to go through every other informant report or wiretap log or affidavit in the FBI offices to show this. It is also impossible to know what one agent told another in discussion about what other informants were saying or to reproduce what was said at weekly meetings of the agents.
There was a core group of agents in the C – 3 squad which did the organized crime investigations. Some were together for many years. A half-dozen have  been accused of taking gifts and money from Whitey. These agents trusted each other and were friends. They talked. They talked a lot as guys and gals do in the workplace especially if it is their business to know what the others are doing. Unfortunately the atmosphere of the workplace is what we never get in these cases. The courtroom is removed from reality.
It was the agents job in an organized crime unit to know what was happening. The prosecutors suggest because an informant file was locked up in an informant room that nothing in that file which was put in by an agent in C – 3 squad would be known by another agent. That would be true if all the agents were all locked up in their own little rooms and like jurors forbidden to talk about what they were doing. But that's not reality, it a make-believe world the prosecutors know doesn't exist. People talk. People chasing organized crime people have to talk among themselves.
If Agent Shea learns from an informant that Billy Kelly hangs around a lounge off Route 24 and files a report about it, don't you think he talks to his buddies in the group about the information he had on Kelly. Suppose Agent Raye is trying to connect Kelly to the Hamilton murder, isn't Shea going to tell him what the informant told him.
The point is that it is impossible to prove every record in Whitey's informant file is false. But the proof offered so far by Whitey's defense team of Carney and Brennan clearly points to that conclusion. It is the government's obligation to prove Whitey is an informant, not on the guilt or innocent issue, but on the commonly accepted idea we all have held of what Whitey is all about. So far it has come up short and is slipping badly every day.
The government must establish that. For if it fails to show that Whitey is an informant, and remember it raised the issue in the case, then it must follow, as one lie will inevitably follow the other, that Whitey is not many other things the government has suggested he is.
What now is the jury to believe after more than a week jousting between the contending parties over the issue of whether Whitey was an informant when it clearly appears the main lance of the attacker is broken and the person defending has carried the day? Will it believe the attacker has any credible ammunition left?  Will it think as, George W. Bush ineptly tried to explain: Fool me once, shame on you; try to fool me twice, shame on me.
The plot thickens.