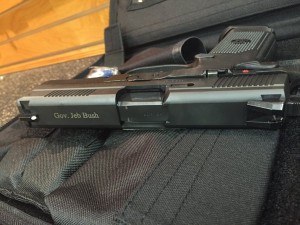 The gun told us it was over. Or perhaps it was even before that when he said "please clap!" Or perhaps with these other faux pas. Maybe it was when he thought the people would elect a guy name "Jeb" who had no last name.
Who names a kid Jeb? I wrote a novel a long time ago and that was the name I used for the protagonist. I never thought anyone actually had that name until I heard of Jeb during the presidency of George Walker Bush. Jeb would have been the second son of George Herbert Walker Bush, who was named after his mother Dorothy Weir Walker of Walker's Point's father George Herbert Walker, to become president.  Until his concession speech I had no idea his name was "John Ellis Bush."
It was clear right from the start of the race he tried to distance himself from the Bush name perhaps recognizing Americans are put off by family dynasties running the country. Unfortunately for him word leaked out of private meeting with Manhattan financiers that he told them his top adviser on foreign policy was his brother.  Then a year ago he released his team of 21 foreign policy advisers and 17 of them served his brother. One name on his foreign policy team was a guy named Paul Wolfowitz.
When the subject was brought up Bush said he did get some advice from Wolfowitz. To explain he said that he was just bringing back the people who had the experience and advised the last two Republican presidents.Those of course were his father elected in 1989 and his brother in 2001.  I don't know about you but that gave me the shivers.
I did not feel much better when he was asked by the infamous Megyn Kelly in May of last year about whether he believed his brother's attack into Iraq was the right thing to do. His answer was confusing – or at least made to look confusing.  He'd some out the next day and say his misunderstood the question. Later he would say to discuss the issue was "disservice for a lot of people who sacrificed a lot"which meant we were not supposed to question any prior decisions to go to war. 
To me it was not his answered that mattered one way or the other it was that he seemed unprepared for the most obvious question he was going to be asked. Hadn't he thought about it? Didn't he talk to his advisers about it?  Perhaps that was the problem. The few people who still think the invasion of Iraq was a good idea are the ones he planned to take with him into the White House.
There's an interesting article on him when he was at Phillips Academy in Andover.   He had no interest in the politics of the time during the height of the Vietnam era protests 1967 – 1971. He was a well-built six-foot four. He towered over most of his classmates. He was captain of the tennis team. It was fair to say no one gave him any backtalk.
He entered the race the favorite with the connections and the money, $150 million dollars backing him up. During the first couple of debates I'd have to guess his fate was sealed. In retrospect it was because during his youthful days he never encountered a loud mouth bully – he was a product of the country club politeness and gentility where never is heard a discouraging word. When the brass New Yorker Trump unloaded on him he was shocked – he didn't know how to fight back:  a deer in the headlights frozen in confusion.
The gun was a last gasp. America had a chance to elect a man with well thought out positions backed by the establishment and much money. A man who had been married forty-four years and had nary a black mark on his record other than his relationship to his brother. (Sound like someone else we know.)  It rejected him because an empty-headed bully kicked him and his brother around  when the opposite should have happened.
The downside of a silver spoon birth is missing the rough and tumble of life. Some get over it, like Jeb's old man or Teddy Roosevelt who went off into combat. Perhaps it is occurring to Americans after the Clinton/Bush/Obama years that those not tested by life in their youth turn out to be failures as presidents.