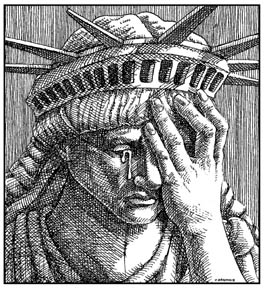 To sentence a man to die in prison for something that the federal government gave him permission to do and for something others in his position routinely do is plainly a huge miscarriage of justice. In a Florida prison a retired FBI agent named John Connolly is looking forward to dying behind the walls. Like one of the persons who landed him there, James "Whitey" Bulger, he will leave prison being carried on a stretcher outside to a hearse.
His is a voice crying in the wilderness for justice. His voice is being drowned out by the voices of evil men who wish to have him silenced. It is being drowned out by legal officials about whom G.K. Chesterton had this to say: "not that they are wicked (some of them are good); not that they are stupid (some of them are quite intelligent); it is simply that they have gotten used to it. They simply do not see the prisoner in the dock; all they see is the usual man in the usual place. They do not see the awful court of judgment; they see only their own workshop."
Those involved in John Connolly's case do not see him. They sadly have no understanding of his situation. They are too busy to consider his plight. They just accept that he was a corrupt FBI agent.
Connolly's voice is drowned out by FBI agents, even those who support him, who cling to the idea that the FBI is always right while looking in the face of its wrongful actions. They are unable to face the truth. His voice is drowned out by loud voices in the Boston media continually labelling him as a "corrupt agent" without disclosing their animus toward him. One especially is Howie Carr, a Boston Herald columnist and radio host who carried on a brutal attack on him for his personal financial gain. I fund it ironic that many John Connolly supporters relish Carr's attacks on others without recognizing those other victims of his poison pen may like Connolly, or Probation Commissioner O'Brien, are being wrongfully attacked.
I don't consider myself a supporter of John Connolly nor am I related to him in anyway. I know him only because I've had a few conversations with him when I was a Deputy DA and he an FBI agent. My main reason for not being a fan of his is that he entered into a compact with two evil men to protect them (keep them safe). In doing this he knowingly hurt others by allowing these villains to prey on them or by working against those who appeared to be a threat to them..
I understand that was part of his job. It was clear that all in his job knew of this. Many in the FBI gladly abetted him in doing it. Any information any collected against these criminals he was handling had to be conveyed to him. While all FBI agents participated with him, almost all walked away from him when the dictate came down from above. They fled from him because he had embarrassed the FBI. (See my book "Don't Embarrass the Family" for an in-depth understanding of Connolly's trial and travails.)
Connolly was the FBI handler of two top FBI informants James "Whitey" Bulger and Steven Flemmi. Both were top organized crime figures whose hands dripped with the blood of many they murdered. He handled them as part of the Top Echelon Informant (TEI) program. As their handler it was his job as the agent handling Rossetti said on August 13, 2011 to his TEI "to keep them safe."
John Connolly job in the FBI was to operate persons designated as TEIs. It was said he had at least ten of them. The TEI program was started before he became an FBI agent in the early 1960s by J. Edgar Hoover. The program still exists. That it does will forever be a blemish on the FBI's reputation. The idea behind it is for an agent to find high level criminals with access to information on other high level criminals and to develop a long-term relationship with them so that they will provide information to the FBI against the others. To do that it is important that they be protected and kept on the street.
In other words the FBI has a program that favors some vicious criminals over the others. It is designed is to ensure its favored vicious criminals remain free to commit crimes while providing information to it.  I find the idea that criminals are protected so that they can victimize people a perversion of justice. I am unable to understand by what right the FBI across the nation protects major criminals and their enterprises while they  victimized other people. While John Connolly's informants were murdering innocent people and fellow criminals who they thought presented a threat to them Connolly and his fellow FBI agents were doing their best to keep them safe so they could continue their murderous ways.