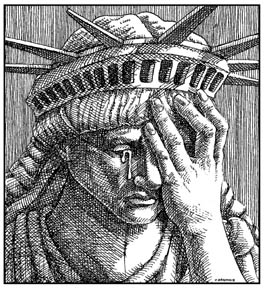 As I said I am not a John Connolly supporter which based on my reasoning also makes me not a supportive of the FBI because of this dastardly program which is known to exist by all the FBI agents. The tragic happening to John Connolly should be a warning to all FBI agents engaged in the program that they are playing with fire. For nothing John Connolly did (even assuming that those who testified against him were telling the truth which I do not believe for one minute but to tell this tragic story I must) was not part of what he was supposed to have done as an FBI agent. It was his job under the program to use both Bulger and Flemmi as informants and gain information from them so that the FBI could go after others.
There is little doubt they provided him information. Its worth may be questioned by some but it is clear at a minimum that they gave him the interior setup of Gerry Angiulo's Mafia headquarters so the FBI could plant a bug and aided them in their investigation of Vanessa's in the Prudential Building and the recording of a Mafia induction ceremony. Each of these thrust a dagger into the Mafia's attempt to survive.
Some suggest that most of the critical information came from Steve Flemmi an Italian who was trusted by the Italian Mafia. This may be true. What is also true is that he would not have done it if his partner Whitey was not in on the deal with him.
Whitey at his trial averred that he was not an informant. This would suggest Flemmi was and Whitey did not know it. Few give this any credence. They were always together when with Connolly. It is also belied by the fact Whitey met with the FBI Special Agent-in-Charge when the SAC planned to terminate Whitey's services as an informant. Whitey made a pitch to  justify his being continued on as a TEI.
If then it was part of his job to handle these top criminals then why do I not support him? It is I believe one cannot escape responsibility for one's individual actions by saying I was only doing my duty or what I was told. The idea that anyone in law enforcement would have a relationship with and protect two persons known to be top violent criminals engaged in murdering people is something I cannot accept.
As an aside, it is also why I can never respect those law enforcement officers working with the federal prosecutor who sat in court during John Connolly's trial and laughed in support of John Martorano's attempt to crack jokes while testifying. Martorano murdered more than 20 people and these officers had become his buddies. Also, the prosecutor Fred Wyshak who, during his direct examination of Steve Flemmi laughed along with Flemmi when talking about the killing of Brian Halloran. Halloran was murdered by Whitey. Both seemed to find humor in his nickname "balloon head." Their joint mirth suggested a closer band between them than appropriate when you here more about Flemmi..
A simple look at the matter shows that the matters surrounding John Connolly involved a field of sordidness. Why then do I write about it? I believe John Connolly is as much of a victim of injustice as Alfred Dreyfus the Jewish French captain unjustly convicted by French military courts of treason. Unfortunately for Connolly there is no one of prominence like Emile Zola who is interested in writing a "J'accuse" paper on his behalf as Zola did for Dreyfus. Nor is there the stink of anti-Semitism. No religious beliefs are implicit in Connolly's injustice but certainly his close political connection played a role in his mistreatment.
To return to the nub of the matter the FBI has a program that favors some vicious criminals over the others which is designed is to ensure their favored vicious criminals (TEIs) remain free to commit crimes while providing information against others. It assigns agents to work in this program. By what right can it allowed one of its agents to be prosecuted for doing what it required him to do?
But that is what it did because when it was disclosed back in 1997 by Steven Flemmi that he and Whitey Bulger had been FBI informants (Flemmi since cir. 1965/ Bulger since 1975) a hue and cry rose up in the Boston media. How could it be, the media shouted, that the FBI would use two notoriously vicious gangsters as part of its team? The outcry became hysterical ranting scream when Flemmi testified that John Connolly told them that they could commit any crime they wanted as long as "they didn't hit (murder) anyone."