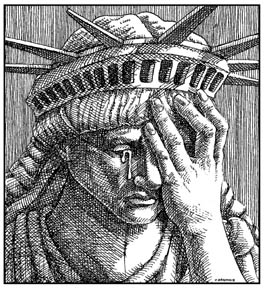 The result of Flemmi's testimony that he had been authorized to commit crimes by the FBI agent had the potential to do two compelling things: it would undermine the prosecutor's case alleging a conspiracy among the gangsters because you cannot conspire with a government agent which Flemmi was alleging that he was; it also brought tremendous embarrassment to the FBI.  As I've shown over the years the worst thing an FBI agent can do, even worse than being a spy for an enemy, is to embarrass the FBI. (See book: "Don't Embarrass the Family.") 
The prosecutor believed he had to come up with testimony to counter Flemmi's allegation. He had two choices: retired agent John Connolly or his supervisor retired agent John Morris. Both men had contact with Whitey and Flemmi.
During 1988 Morris had been the source for the Boston Globe. He was wrongfully providing information in an investigation dubbed the 75 State Street case. Having been taking money and other bennies from Whitey over the years he feared exposure. Perhaps Whity was recording the bribery.  He came up with a plan. He would violate his FBI obligation to keep the identity of an informant secret and disclose to the Globe that Whitey was an informant. He hoped that by publicly disclosing Whitey was an informant Whitey would get whacked (murdered) by the Mafia. Then his  taking money from Whitey would not be discovered. (He'd also admit taking money from another TEI.)
Connolly had over 10 TEIs. None aside  from Whitey or Flemmi accused him of taking money from them. Connolly was never convicted of taking money from them. Both Whitey and Flemmi after their capture to arrange deals for themselves said that they paid him. It made no sense. Gangsters are notoriously cheap. They gave him information. They did not need to give him money to be protected.
Morris worked closely with the Globe. He considered one of the person's who worked there and who would lead the charge against Whitey as a close friend. The prosecutor was very influenced by the Globe which had puff pieces on him. It was natural in determining who to use to rebut Flemmi that he would turn to Morris who was Connolly's boss (even though the boss is the one that is usually targeted). Morris would testify to a life of venality while an FBI agent. He would never be punished and was rewarded with an FBI pension.
The FBI in order to shed the cloth of embarrassment would decide it had to sacrifice agent Connolly. Like in the military when a piece of equipment like a jeep is "accidentally" dumped into the brink and all the inventory officers of all the units on the ship clear their books by saying the equipment that had been missing for over the past year was on the jeep, the FBI  hoped to load all its evil relationships onto Connolly.
He was to be a rogue agent in accordance with the longstanding FBI policy of labeling anyone caught doing an illegality as a rogue agent. This was the danger facing agents if they did "black bag" jobs (breaking into private homes and offices) and were caught. The usual punishment was a letter of reprimand. In Connolly's case that would not satisfy the blood lust of the media. He was to be dragged and quartered.
Perhaps Connolly would not have suffered as much as he would, he is now going to die in prison, had there not been another factor involved. Anyone who has read anything about this matter knows that Connolly was being targeted mainly because of his connection to another person. During Connolly's trial which I attended it became obvious that it was the other person who was on the mind of the prosecutors. I would go up to Connolly and suggest to him during a recess that it seemed to me the prosecutor wanted him to give information on that person. Connolly, to his credit, said he knew that. He said the person was a man of integrity so he had nothing to give. He also mentioned that if he could get a deal if he implicated others in the FBI.
In my book I quoted what he said: "How could I do that since there was nothing to give. I couldn't lie about someone just to get myself off the hook. I'd have that hanging over my head for the rest of my life. I couldn't live with myself if I did that."
I guess that more than anything tells you what type of guy he was. He was not about to make up lies as the government witnesses were doing  in order to save himself. We see where that idea you don't lie on others got him.
Surely he had no idea then nor did anyone else that he was heading off to prison and he would never see the sunlight of freedom again. How could he back in 2002 know that in 2017 he would still be in prison. How is it possible that he could understand that in 2017 he would be told he was going to be in prison until at least 2030 or more likely 2039. John who was born on August 1, 1940, received that news just before his 77th birthday.
Connolly started serving prison time on September 17, 2002, being sentenced to ten years. He was indicted in Florida in 2005 for the murder of John Callahan and was convicted of that in November 2008,. He was sentenced to 40 years in prison.  That's pretty much a death sentence for a 68-year-old guy.  That is unless he could get some sort of parole.
I've often said he'd never be paroled because the forces that put him in want to keep him in. He had a hearing relative to his parole. The hearing officer recommended as a presumptive parole release date the day after Christmas in 2030. John will be 90 years old having done 28 years in the can. The Florida Commission on Offender Review did not agree with the investigator. It set his presumptive parole release date as June 26, 2039, just before his 99th birthday. If he made it that long he'd have done almost 37 years in prison.
Those are not firm dates. His next hearing is set for 7 years hence. He'll be in his mid-eighties.