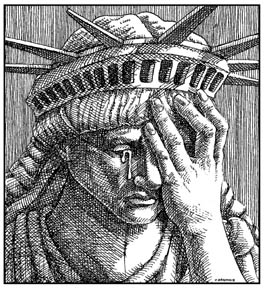 What is so strange about John Connolly spending 37 years in prison aside from the fact what he was alleged to have done was what the FBI wanted him to do is that the crime for which he is doing time is one which a jury found he had no involvement in.
What is even stranger is that neither John Connolly nor his FBI supporters will accept that it was the FBI that turned on Connolly. Connolly and the others seemed to believe it was the Justice Department in the form of some people in Washington D.C. and others in the Boston U.S. attorney's office.
Why didn't they look at the prosecuting table in the courtroom and see that the FBI had its representative sitting there in the person of Special Agent Gary Bald? Were they unaware of the parade of FBI witnesses who testified against Connolly during the trial who were specially assigned to Boston? Do they excuse them because they were "just doing their jobs." But that's exactly what Connolly was doing when the FBI turned on him.
Rather than running from him and cooperating with the prosecution the FBI had the responsibility to come to his defense. It should have pointed out that Connolly was working as a handler for Top Echelon Informants. It should have told what the program was about. It should have explained what was expected of the agents and how it expected them to develop long-term relationships with these top criminals. It should have paraded witness after witness of FBI agents in to tell how they really operated with their TEIs.
It should have told the jury that the rules which are set out in the manuals and the forms are just for cover to prevent embarrassment and that no agent is expected to follow them. It should have its agents explain how in real life that to develop a TEI you also have to develop a friendship relationship with one. The whole program should have been exposed but it was hidden.
The question that the FBI has never faced is what is it that it promises to a TEI to have him cooperate with it. It not any type of break in prosecution or sentencing since it has nothing against him; it is not money since these guys are rolling in money; it is not any type of stature since they have all the stature in their criminal group that they want. It is not, as one FBI agent said, to keep their identification secret since that is done with every informant.
They are asking these TEIs who are not jammed in to betray their friends. What is it that is offered from them to do this? All that the FBI can give them is protection from others: gangsters, other law enforcement agencies, and the FBI. "My job is to keep you safe! 
The FBI left Connolly alone and unprotected fearing bad publicity. Others though know the TEI program exists.  Especially judges who decide cases where TEIs are used. None seems to wonder what is on the other side of the coin. They write about the TEI program. They note that some gangsters are in it. Yet they never tell what it is the FBI guarantees to these people for their information..
What is it Connolly could have offered Whitey and Flemmi to become informants. There is no doubt they were. Flemmi admitted that they were. He downplayed the information they were giving when talking to other gangsters. According to Murderman Martorano he told him:"Me and Whitey gave them shit and got back gold." 
Whitey and Flemmi  allege they were getting information from Connolly for money but that made no  sense. If they were how then was it the Boston Mafia was destroyed by information furnished by Connolly. If they were giving information as ever gangster who read FBI reports agreed happened, why were they doing it?
Neither Whitey or Flemmi needed money; they did not need protection from the Mafia because they worked with Mafia while undermining it. They didn't need the Mafia's business since they had plenty. Frank Salemme when asked why Flemmi would become an informant said: "It gave him a sense of security that he could continue his criminal activity, and all he had to do was give up on jerks like me and he would be all set,"
What he was saying was they were being informants so they would be protected. That was the FBI agreement with them.
John Connolly and his supporters in the FBI are in part to blame for his plight. They keep trying to protect the FBI. I understand it is difficult to accept that the organization you served in is less than what it should be. It is difficult to criticize it especially since your relationship with others in it is important to you not just for social reasons or family but also for the ability of the retired FBI Agents Association to help with future employment or to prevent one from getting it.
The bottom line is John Connolly is hindered as are those agents supporting him by their blindness. They are unable to see that the villain is the organization they are most proud of joining, They should know the FBI should never have joined in Connolly's prosecution; it should have stood tall and told the world that he was doing his job.
Its fear of the media; its fear of being embarrassed; its chance to put all the sins of the TEI program on one man; the desire of the higher-ups not to cross the Justice Department; its ability to keep all its agents and retirees in line has allowed it to walk away from Connolly. It cares nothing that this special agent with 22 years of commended service will rot in prison.
Sadly, to this day both Connolly and his FBI supporters refuse to accept the FBI's responsibility in this great injustice. So why is it such a great injustice?