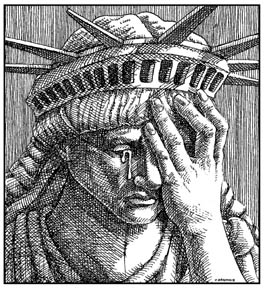 The federal prosecutors and investigators after losing in Boston changed their hats, as I noted, so that they now looked like state prosecutors. The case went forward in Florida even though Connolly had already been cleared of any involvement in the Callahan murder. The issue of double jeopardy was never raised. It should have been. The Florida case was no more than the federal prosecutors retrying Connolly for same crime. A good lawyer should have been able to pierce the veil that this was a separate sovereign trying him.
Connolly by now is destitute. He is only going to get the lawyer the state assigns to him. In Boston he was well represented as shown by the results achieved by his skillful lawyer Tracey Miner. This was despite being limited in what she could do with respect to Connolly's defense. I have no idea of her communications with Connolly nor should I because of the lawyer-client privilege. But throughout the trial I felt her hands were tied by Connolly who, as I mentioned, was of the belief that the FBI had done nothing wrong which prevented her from a full-out attack on it. He held to that belief in his Florida trial unable to see how the FBI abandoned him.
I have no idea why the double jeopardy defense was not raised. Did his lawyer err? Shouldn't this have been his first line of attack?
Along with that Connolly had another defense. It is based on the federal preemption doctrine that a state cannot try a federal agent for acts done while he is acting as a federal agent. I've pointed out that Connolly was acting in accordance with his job's requirement at all times in his interactions with Whitey and Flemmi. The FBI failed to step up and defend him on this; also, the party that should have had his interests at heart, the Department of Justice, which would normally have raised this issue was bent on prosecuting him.
I have no idea how much input Connolly had into not having these defenses raised. I see no reason why he did not pursue them. As to the latter defense to do that it would require him recognizing that his present peril is mainly caused by the FBI taking a Dixie on him. Now that he is looking at never walking out of that place especially with law-and-order Jeff Sessions in control of Justice perhaps he better recognize that if he is to be set free he must take on the FBI.
I'm sure that it is not be too late. I do not believe the passage of time destroys those defenses. I say that because they are constitutional rights. What Connolly needs is a willingness to understand why he is in prison, still, longer than any other person by far involved in this sordid episode, and seek out some young smart lawyers willing to assist him.
The issues are fascinating. He just has to get the right lawyers both bold and brilliant and there is the chance for his freedom. It won't come  from the Florida courts. It has to be way of a habeas in a federal court.
What he must not do is give up. He must also accept that there were forces in the background working against him. The ordeal won't be easy yet those sinister forces may be seeing their influence diminishing. He obviously has no chance of help from the president; Howie Carr his mortal enemy is a close friend of Trump and would stop that.
The Florida trial was a repeat of the Boston trial with the addition of one of the worst people to ever walk the surface of the earth Steven Flemmi, Whitey's former partner was now on the federal team's boat. Flemmi as you know murdered many. Why he is so distinguished as to be the worst of the worst, why his nickname is Benji Ditchman (from the words benjo ditch – he dwelt in sewage in open ditches) is he murdered two young women: his girlfriend of 7 years in her mid-twenties who tried to escape him and his step-daughter who became a drug addict having been sexually molested by him from the time she was as a young girl. Like the coward he is he said Whitey made him do it.
The Florida jury acquitted Connolly of first degree murder and conspiracy to murder. It convicted him of second degree murder with a gun. He lost on appeal, he won on appeal, and he lost on appeal in one of the most outrageous decisions ever written in the annals of criminal law.