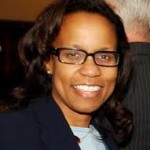 Who?
I suppose I shouldn't ask that question.  I never heard of her but then again I haven't practiced in the federal district court since the days of standing before J. Arthur Garrity defending a client almost as badly vilified as James "Whitey" Bulger, the Boston School Committee.  I did notice she was highly praised by Gerry Leone, the Middlesex DA, who I respect for whom she worked so that was a point in her favor.
But being unfamiliar with her, I went to my friend Google to find out more.  Google told me that she was born in 1968 in Suffolk County, New York in a small town of around 20,000 people. She graduated from to Wesleyan College in Connecticut and from Harvard Law School in 1994. After graduation she became a law clerk in the Massachusetts Appeals Court for Judge Edith Fine, a former assistant corporate counsel for Boston. I interacted with Judge Fine  around the time of the forced busing case and was before her at times when she was a judge. She was very pleasant and thoughtful but too inclined, I thought, to seek to give a criminal another chance.
Judge Casper also clerked for Judge J. Harold Flannery, one of the lawyers on the other side of me during that same case. He was an easy guy to deal with. I'd put both of them as leaning more toward the liberal side of the equation.  During their legal careers each one would have fit comfortably with the ACLU's philosophy.  I can't say that's bad for someone whose career would then be one of a prosecutor because of the balance it would give her. 
At some point she married a fellow Wesleyan graduate, Marc N. Casper. She worked in a litigation department in a biggish law firm for 3 years which would have been mainly a desk job. She then became an assistant US attorney for six years and for four years after that an assistant DA. She had about 17 years of experience and was age 41 when she was appointed by Barack Obama on the eve of 2011 to be a federal judge.
She was sworn in on January 11 of that year by Judge Mark Wolf who was 39 years of age with 14 years as a lawyer when he was appointed a judge.  She will have had two and a half years on the bench at the time the doors open for the main event. That's certainly enough for her to have shed her learning feathers and to be comfortable in her own skin as a judge.
She's one of 14 district court judges, of those three are in senior status. Senior status is what we'd all dream of getting some day. It's a full-time salary with all the perqs for part-time work: 40 hours pay for 10 hours work.
There's only one conceivable problem with her. In 1999 she joined the U.S. Attorney's office where she remained until 2005.  These, of course, were the years of Judge Wolf's decision in the Salemme case, the bringing down of the indictment of Whitey the case she is now assigned to handle, the John Connolly trial and many other matters surrounding Whitey's case. Obviously she knows all the lawyers who are prosecuting Whitey and knows a lot about Whitey.
To know Whitey from inside the US Attorney's office in Boston or from any of the media or books written about him is to definitely not like him. But none of that matters if she is capable of putting all that out of her mind and not be affected by a natural belief Whitey is guilty especially because he is being prosecuted by people she used to work with. I don't know the judge so I don't opine on her capability to do that, although good judges can do it since they fit comfortably into their new roles as impartial arbiters.
The Court of Appeals suggested the case be reassigned "to a judge whose curriculum vitae does not implicate the same level of institutional responsibility described here."  It would seem at first blush that because Judge Casper worked in the U.S. attorney's office during critical years when this case was being pursued, investigated, indicted and handled by people she worked with that she would be covered by this suggestion.  A closer reading shows the Court of Appeals was concerned with a person who would have been in a decisional making position and not one like Judge Casper.
I suppose the question that remains is how would a reasonable person think that in replacing Judge Stearns by another former U.S. Attorney who worked in the criminal division in the same office with the assistants who are now prosecuting Whitey is an improvement over the prior situation. The answer is similar to the answer the Federal Court of Appeals gave when it was noted that Judge Wolf was in the US Attorney's office at the same time as Judge Stearns and he should have not sat on the Salemme and Flemmi hearings.  That court said that defense counsel never raised the matter so it assumes it had no problem with Judge Wolf.
Here the same situation attains. J.W. Carney said to the Court of Appeals that any other judge would be acceptable to him other than Judge Stearns. He has waived any right to complain about Judge Casper. If Whitey isn't complaining then we should be satisfied with the selection of Judge Casper.
Therefore the stage has now been readied for the June opening.