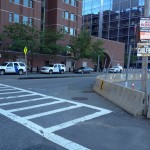 Surprisingly few people were in court for the video broadcast of the judge's speech to the jury. Outside the court as I approached were five Homeland police cars; inside the court things went on without any indication something different was happening. The usual array of deputy marshals checked  identifications and cleared people into the courthouse.
Judge Casper told the jurors that the trial was expected to go from early next week, June 10 if the jury is selected by that time to the end of September.  The court will sit for four days a week from 9:00 am to 1:00 pm but on Thursdays until 3:30 pm.  She suggested the schedule was made that way so that the jurors would not be too inconvenienced.
She seemed especially concerned that the jurors understand what they are getting into. She noted how jury duty in a case like this would be an inconvenience to all the jurors but it was necessary that she be able to come up with a cross-section of society to sit as jurors. She said that even though some might not want to sit she may have to require that they do if others have greater reasons for not doing that.
She handed out questionnaires to the 200 some odd jurors to fill out.  They could then go home and they should check back with the court by phone tomorrow night to see if they have to come back Thursday. She explained when they came back they would be subject to more questioning and some may be dismissed for cause. After that was done, the attorneys could use their peremptory challenges to eliminate a handful more.  She said she would sit 18 jurors but only 12 would be sent out to deliberate. 6 would be alternates who would step in if one of the 12 could no longer serve.
Judge Casper emphasized at least twice that the jurors must not discuss the case with each other, their friends, family, or acquaintances about what had happened today nor are they to read, watch or listen to any media coverage of the case.  If anyone asks them about it they can just say they were called to be part of a jury panel.
I'm told Judge Casper will go through the same speech today at 1:00 pm and again tomorrow morning to other jurors. In total there will be over 650 jurors who will go through this process in an attempt to get 18.  No one felt confident that the opening statements would begin on Monday.  Time will tell.
After Judge Casper left the jury room she then held a hearing on the case in another court room. Present again were only a handful of people, mostly media members. Most of this hearing was conducted up at the judge's bench so what was discussed was kept confidential. The highlight of the hearing was the appearance of Whitey. This was my first time seeing him.
He looks younger than his 83 years unlike what he did with his beard.  He is trim and walks without difficulty. He wore blue jeans with a belt and a long sleeve light black sweatshirt-type shirt. He was watched over by two men in civilian clothes who sat a short distance from him.  His hair was cut short Marine style and he wore glasses. Throughout the hearing he sat quietly watching the proceedings with the only movement when the bench conference was ongoing was his changing of the position of his arms from having his hands clasped in front of him resting on the table to folding them across his chest.  Both before and after his lawyers went to the bench, he conversed freely with them.
The hearing lasted 15 minutes and then recessed. Carney and Brennan talked informally to the members of the press outside the courtroom.  I'm led to believe that now that the jury is being impaneled their ability to talk more freely is more restricted. I said hello to both.
I'll head back into the court to see what happens with the next group of jurors. I don't expect things will be much different. But this time I'll be in what is called the overflow courtroom.  I don't think they'll be much to report on the case until opening statements next week.