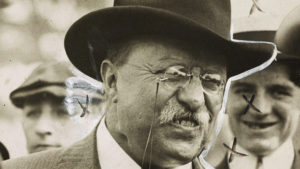 On October 12, 1915, in New York City, Teddy Roosevelt spoke to an assembly of the Knights of Columbus holding its annual event on Columbus Day. It was an important event to have an ex-president addressing it. Teddy's speech has been billed as the "Unhypenated America" Speech but it was so much more.
On September 20, 2018, and article in the New York Times noted the prominent evangelist Ralph Reed said: "If Republicans were to fail to defend and confirm such an obviously and eminently qualified and decent nominee, then it will be very difficult to motivate and energize faith-based and conservative voters in November."  After noting how other evangelical leaders are supporting Kavanaugh, the paper said:  "To be sure, evangelicals leaders are trying to push Senate leaders to stiffen their resolve to force the Kavanaugh confirmation to a vote at a time when it may be politically perilous to do so. And the likelihood that the base will stay home in November and risk handing the Senate to the Democrats may  be relatively low, given how popular Mr. Trump remains with white evangelicals."
We do know that Trump is overwhelmingly supported by the evangelicals. Over 80% voted for him in the election. Their preachers routinely appear in the White House praying with him.  Preachers like Robert Jeffreys said: "Millions of Americans believe the election of President Trump represented God giving us another chance—perhaps our last chance to truly make America great again." The latter article noted: "There will be no point at which Trump's most loyal evangelical and charismatic supporters declare they have had enough. Because to do so would be to admit that they were wrong, that God wasn't behind Trump's election . . . ."
Back in 1915 Teddy Roosevelt said: "For there is nothing that a man of loose principles and of evil practices in public life so desires as the chance to distract attention from his own shortcomings and misdeeds by exciting and inflaming theological and sectarian prejudice."
He said: "It is a wicked thing either to support or to oppose a man because of the creed he professes. This applies to Jew and Gentile, to Catholic and Protestant, and to the man who would be regarded as unorthodox by all of them alike. . . . Washington and his associates  believed that it was essential to the existence of this Republic that there should never be any union of Church and State; and such union is partially accomplished wherever a given creed is aided by the State or when any public servant is elected or defeated because of his creed. . . .To vote either for or against a man because of his creed is to impose upon him a religious test and is a clear violation of the spirit of the Constitution."
He added: "We must recognize that it is a cardinal sin against democracy to support a man for public office because he belongs to a given creed or to oppose him because he belongs to a given creed. . . . True Americanism demands that we judge each man on his conduct, that we so judge him in private life and we so judge him in public life."
Teddy went on to talk about immigrants becoming more devote to America, of the need for labor peace and for war profiting to stop along with the need for a strong defense knowing the war was waging in Europe. He warned; "If as a nation we are split into warring camps, if we teach our citizens not to look upon one another as brothers but as enemies divided by the hatred of creed for creed or of those of one race against those of another race, surely we shall fail and our great democratic experiment on this continent will go down in crushing overthrow."
 He had earlier said "that in this country there must be complete severance of Church and State." He picked up on this theme again saying: "All of us, no matter from what land our parents came, no matter in what way we may severally worship our Creator, must stand shoulder to shoulder in a united America for the elimination of race and religious prejudice. We must insist on the maintenance of equal justice to both big and small."
I suggest Teddy Roosevelt would not recognize America where one religious group seeks to control our government.