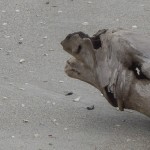 Globbering:
Pronounced: globe – erring
Etymology:
Globbering should not be confused with clobbering. The latter is usually done with a club or truncheon; the former with words. It is named for the practice of The Boston Globe which developed a method of clobbering a person it did not favor. (See POOF – person out of favor)
Definition:
It occurs when a newspaper with wide circulation finds a person it does not like. The target is a usually a public figure because that person's ability to sue for libel is severely limited. The newspaper will write about her over and over in a negative light using rumor, innuendo and anonymous sources. Having scant evidence but using tenuous inferences it will tie her into bad people or things. As it is ruining the person's reputation, it will start to make calls to officials pushing them to take action against her. These officials fearful of becoming a target themselves and anxious to ingratiate themselves with the newspaper will set about to satisfy the newspapers demands. While that is ongoing the newspaper will write negative editorials about her demanding openly that which it had been demanding surreptitiously that action be taken against her. Often back door communication between the newspaper and these officials will guide the response. The matter will then end up before the highest court or the local U.S. attorney who will respond to the newspapers call. The person globbered will have had her reputation so destroyed that she will become a pariah to most people without having had a chance to defend herself.
Globbering gives lie to the old poem: "Sticks and stones may break my bones but names will never hurt me."
Better still we should consider Shakespeare's take on it when he explains through the mouth of Iago:
"Good name in man and woman, dear my lord,
Is the immediate jewel of their souls.
Who steals my purse steals trash; 'tis something, nothing;
'Twas mine, 'tis his, and has been slave to thousands;
But he that filches from me my good name
Robs me of that which not enriches him,
And makes me poor indeed."
The act of globbering is the flinching of a person's good name.