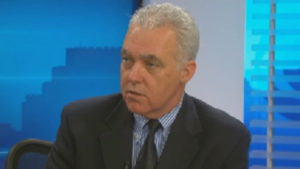 Once in a while Kevin Cullen back when he was a reporter for the Boston Globe would call me when I was deputy district attorney in Norfolk County. He was not looking for anything special but mainly doing I guess what you would call due diligence seeking to verify some information he already had.
I recall back in 1988 he called. He asked me because of my work in doing wire taps and other organized crime investigations whether I had any information  Whitey Bulger was an FBI informant. I told him something along the line that it would be preposterous. I suggested that he is a target. Little did I know Kevin and his group had already learned from FBI Agent John Morris that Whitey was an informant. He was trying to corroborate this. Eventually another FBI agent named Fitzpatrick would corroborate it for his team.
Years passed. John Connolly's trial took place and then Whitey got arrested. Because I had written a book about the Connolly trial, Don't Embarrass the Family, I started this blog to push the book explaining that reading it would help one understand the issues. I also began to comment on the developments leading up to Whitey's trial. Some of my blogs were not too friendly to the positions taken by the Globe.
As the Whitey trial date approached I asked the Patriot Ledger if I could report on it for them. It agreed. I secured a press pass. Other than a couple of times in the courtroom, I spent my time in the media courtroom where the trial was broadcast live.  Kevin was there. He ignored me perhaps out of pique for my criticizing him.
One person he did not ignore was Howie Carr.  I was surprised to see what bosom buddies they were. I had not thought they were that close.
After that I thought less of Kevin feeling he could dish it out but not take it. Still I would read his columns on subjects that may have interested me. He was a good writer although sometime a little too much of a name dropper.
Now, as you must know, Kevin is out on some type of forced absence from the Globe because as that paper writes, "we take seriously any credible assertion about the integrity of our journalism." It noted some "questions that have publicly surfaced" which apparently reflect poorly on Kevin's integrity.     
As best I can tell these questions relate to whether Kevin claimed in his columns that he was at the April 15 2013, Marathon bombing at the time the bombs went off. He wasn't, he was an hour or two away. One person who quickly threw Kevin to the wolves was his friend Howie Carr who called him a little Mike Barnicle (who was fired from the Globe) and wrote of his "utter destruction by Kirk and Callahan on WEEi."  
Kevin has to sit out while a third party "expert" conducts a thorough examination of his work. It's hard to say what that will involve. Is it the issue that just came up or is it his 30 plus years at the paper.
If it relates to the Marathon bombing a fair investigation should show that Kevin never claimed in his columns he was at site of the Marathon bombing when the bombs went off.  He wrote of what happened from information that he received from others.
It's sort of ironic that he's being nailed in this way; he must have seen how FBI agents who relied on what people told  them were later condemned for writing it down when it was found out to be false.
Kevin's business like an FBI agent was to delve into the matters behind the happenings; to talk to people who had first hand information on them; and to report what they said assuming they were truthfully relaying information which conformed with his observations. Reading his columns after the bombings, that is what he did and described the horrors that had happened.
In his recent column on April 14 he tells about being at a fire and the smell reminded him of the Marathon bombing; he tells how hearing multiple fire engines or ambulances going to an emergency reminds him of it;  and that the embers of a fire gives him the taste of the Marathon  tragedy. Some have said he is claiming to have been there when the bombing occurred; I don't see it that way. I believe he can experience these sensations coming up on the scene hours later, seeing the devastation, talking to witnesses and victims, and imagining the horrors which subsequent events bring back to mind.
Sadly, Kevin has been badly damaged because the Globe quickly moved against him. It had to have known his work after employing him for over 30 years. Even though he's not high on my list of favorite people I must say that truth be told I have never seen other than high quality work from his writings especially in areas where I have a great familiarity.  I may have disagreed with his conclusions but never felt he was writing other than in good faith and based on his facts, knowledge and sources.
I'm not sure why this rap has been put on him by the sports guys at WEEI. Is there something in the background we don't know about? In my judgment it is not fair nor right. Kevin deserves the benefit of the doubt based on his years of good and loyal work. He should be quickly restored to his position with the recognition that he did nothing wrong.
Journalist integrity also means standing up for one's employees absent a clear and compelling case of  wrongdoing. That is not present here. The Globe should never have suspended Kevin.