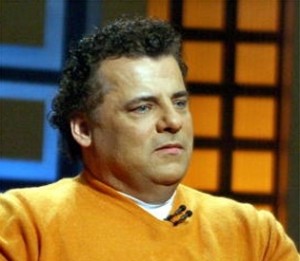 Kevin Weeks was Whitey's sidekick and strong-arm man. He wrote a book Brutal that was published in 2006. Knowing that year is important. First, it is during the time when the Whitey Myth was nearing its height. People were rushing to take advantage of any connection that they had with him.
Second, Whitey had been on the lam over ten years by that time. In his book Weeks told how he stayed in contact with Whitey for a few years after he left in December 1994. Weeks was  confidence that he would never come back to the area alive. He could spin whatever he wanted about him.  Finally, it is written after the 2002 trial of John Connolly where Weeks was a government witness against Connolly.
At the time Weeks was already out of prison having been given a slap on the hand for his involvement in five murders by the prosecution and the federal judge. By this time it was as rare as finding a flying turtle to find anyone who did not buy into the Myth. It permeated throughout society and into the minds of the judges in the federal court both at the trial and appeals level. Anyone who could give something on Whitey was handed a great deal in return.
Pertinent to our inquiry whether Whitey is an informant are the statements Weeks made back in 1997 when he became convinced that Whitey was one:
Weeks had been meeting with FBI Agent John Connolly in an attempt to help out Steve Flemmi who was incarcerated in the Plymouth Country jail. (Why Connolly is so intent on helping Flemmi is another area to be discussed. As you know God created few worse than Flemmi. I feel sacrilegious putting God's name in the same sentence as his. )
About a year after Weeks began transmitting messages back and forth between Connolly and Flemmi he learned from a television broadcast that Flemmi testified that both he and Whitey were FBI informants. He couldn't believe it thinking: "I had believed that Jimmy [Whitey] was corrupting the FBI through greed and money, paying them for information to help us."
At the time he learned that Whitey was out of touch. His only source of information was Flemmi whom he was in communication with on a weekly basis. He had no way to get Whitey's side of the story. He only had Flemmi to talk to but it was Flemmi who was the one saying Whitey and he were informants.
Shortly after hearing that he arranged for a meeting with Connolly at the Top of the Hub in Boston. Connolly handed him the copies of the items that were in Whitey's informant files. I'll let Weeks tell the rest:
"As I read over the files at the Top of the Hub that night, Connolly kept telling me that 90 percent of the information in the files came from Stevie [Flemmi]. Certainly Jimmy [Whitey] hadn't been around the Mafia the way Stevie had. But, Connolly told me, he had to put Jimmy's name on the files to keep his file active. As long as Jimmy was an active informant, Connolly said, he could justify meeting with Jimmy and giving him valuable information. Even after he retired, Connolly still had friends in the FBI, and he and Jimmy kept meeting to let each other know what was going on. I listened to all that, but now I understood that even though he was retired, Connolly was still getting information, as well as money, from Jimmy. As I continued to read, I could see that a lot of the reports were not just against the Italians. There were more and more names of Polish and Irish guys, of people we had done business with, of friends of mine. Whenever I came across the name of someone I knew, I would read exactly what it said about that person. I would see, over and over again, that some of these people had been arrested for crimes that were mentioned in these reports. . . . I thought about what Jimmy had always said, 'You can lie to your wife and to your girlfriends, but not to your friends. Not to anyone we're in business with.' Maybe Jimmy and Stevie hadn't lied to me. But they sure hadn't been telling me everything."
Weeks was convinced that Whitey was an informant seeing the names of people he knew in the file who had been arrested and charged for the information contained in the file. But there are a couple of other things Weeks should have weighed when deciding whether his conclusion is right.
Connolly told him 90% of the information in Whitey's informant file is from Flemmi. Is Connolly to be believed? He was showing Weeks the file to prove his point. If Connolly is correct, that doesn't make Whitey much of an informant.
But what about the information there concerning people Weeks knew? That convinced  Weeks Whitey was a rat. Weeks had no way of knowing that reports in Whitey's file had been taken from other FBI agents files. Could it have been that Connolly did not remember he put that information into Whitey's file? Could it be that without the fake reports Connolly put in Whitey's file Weeks would not have seen the names of people he knew? If so, how does that make Whitey an informant?