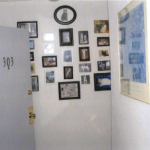 Yesterday, I read an article about a man in Essex County, Ernesto L. Gonzalez, Jr., age 41, who has been declared to be incompetent to stand trial. He is charged with certain offenses involving the disappearance of his 5-year-old son, Giovanni, who went to visit him one weekend back in 2008. He apparently confessed to murdering him but the authorities remain skeptical about his claim even though the son has been missing since then. His lawyer wants the case dismissed saying his client's mental health will never improve which hardly seems a reason for not keeping the case open. I'd not like to see a quick recovery and Mr. Gonzalez returning to our streets. We've got enough like him already running around.
Yet it's not that which intrigued me about the article. I was struck by the report that Gonzalez had a past history of torturing cats. It reminded me of case I prosecuted of a young man from Braintree who also had a similar past history of killing cats and stuffing them in mail boxes. He murdered a young woman, Julie, in a park near his house and carried her back behind his house and tried to hide her body by covering it with leaves. After a trial before Judge Roger Donahue he was found guilty of second degree murder and he, like Gonzalez, ended up confined to a secure mental hospital.
I wondered whether there is a link between a boy or young man's torturing and killing of cats to the eventual torturing and killing of people; or, at least to that person's final denouement in a mental hospital. I also asked myself if there was any evidence that Whitey engaged in this sadistic behavior.
I do know, from personal experience, that Whitey was a bully. This is because I grew up in the Old Harbor Village when he lived there. We kids knew enough from the neighbor scuttlebutt it was best to scatter when Whitey was about. Why? Looking back over those many years I cannot remember exactly why it was we feared him but it surely wasn't because we though he'd be buying us an ice cream cone because our ancestors came from Ireland.
Speaking of Old Harbor Village, did you know that it had the lowest juvenile delinquency rate in the City of Boston even with Whitey living among us. Check out what was said about it in the book From the Puritans to Projects. I'd suggest that Whitey or any of us who grew up in the projects at that time encountered a totally different world than those who live there today. Whitey can't pin his dastardly life on any of his experiences there.
Plus, when you see Old Harbor Village is located next to a huge open park as large as the Boston Common and beyond that a fabulous inner-city beach, you can see that the opportunity to live there back then was something sought after by many.
You'd never know that reading about Whitey's life as told by others. You would if you read what Billy Bulger who grew up there had to say about it. As I've pointed out that's the trouble with people writing about things that they have not experienced. They take their present understanding and seem to think it applies equally to things of the past.
Those outsiders who profess to know what it was like to be inside are called strangers. They are often duped by the seanchaí who live among us; believing the fables of that person as evidence of the truth. Which has led them to believe there was some friendly interactions between Whitey and people 11 years younger.
But I digress, back to cats. Here's something I found that you can mull over:
"When a cat left footprints on Randy Roth's newly waxed car, he caught the cat and bound it to the driveshaft of its owner's car with duct tape. When the car was started, the cat was quickly dismembered, its screams muffled by the sounds of the engine. Roth later murdered his wife by drowning her near Bellevue, WA.
Richard Davis reportedly set fire to cats and used dogs for target practice as a child. He was convicted of murdering 12-year-old Polly Klaas after kidnapping her from her Petaluma, CA home.
Jeffrey Dahmer had an early fascination with dismembering animals. He tortured and cannibalized 11 people.
David Berkowitz shot his neighbor's dog. He confessed to six murders as the Son of Sam.
Albert DeSalvo put dogs and cats in crates and then shot them with arrows. We know him better as the Boston Strangler.
Luke Woodham… "Kip" Kinkel… Eric Smith…. Russell Weston Jr… Andrew Golden and Mitchell Johnson …the list goes on and on. When and asked how many serial killers had a history of abusing animals, FBI Special Agent Alan Bradley answered, "The real question should be, how many have not?""
This got me thinking that with the list of people who are alleged to be serial killers (or as some prefer to call them a multiple murderers (MUMUs)) we've encountered in this saga it's surprising we have any cats left in Boston.
Do you know, and I'd guess this is a record of sorts even excluding the Mafia, that Boston had during the days of Whitey more people who may have been MUMUs per capita than any place else in the universe.  Along with Whitey we had the following government witnesses: Martorano (Murderman), Flemmi (Benji Ditchman), Salemme, and Weeks;  as well as Nee, Sperrazza, Winter, McDonald, Sims. From all that was alleged and brought out in the testimony at the trial, these men participated in multiple murders.  And, I'm not including those who murdered others during the 1960s such as Buddy McLean, Bucky Barrett and Spike O'Toole who ended up being murdered themselves.
It would be interesting to know how many of our local boys had a hostile relationship with cats. I would note that in Whitey's apartment the cops found this: "A glossy blue book called "Cats Up Close," propped open on the TV stand."  I wonder if that is any sort of a clue?