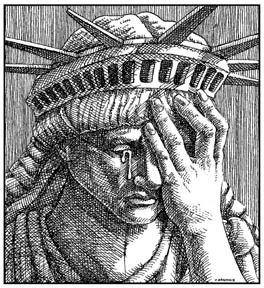 They won't give it up on their own. Some say it is because their great grand pappy fought for it; others say it represents what used to be that fine old culture;  and others have other reasons. All are good if there were not another side to it.
I do not suppose that type of reasoning or excuse carried much weight after the war when it came to the Nazi flag or any other Nazi symbol in Germany. They saw its horrors and banned it. Why then should we not do the same thing in America when it comes to the Confederate Flag which for many blacks (and others) is as abhorrent as the Nazi flag is for many Jews (and others).
I got thinking of this when I read a column by Derrick Z. Jackson wherein he wrote: "For most African Americans, myself included, the Confederate flag is as offensive as a Nazi swastika, a supreme symbol of the oppression and horror sanctioned under slavery and segregation."
Jackson's column was in praise of the 5 to 4 Supreme Court decision giving the State of Texas the right to refuse to make license plates with Confederate flags on them. When I first finished reading it I thought of how the rule of law in our land often comes down to one man or woman's vote which does not seem right in a country of over 315 million people. Jackson was happy with the decision; but a change by one of the judges to the dissent side would have made him extremely unhappy.
Then my thoughts turned to what he said that I quoted above and how offensive that flag is to blacks. Then I recalled, Governor Baker being quoted as saying about the flag: "South Carolinians can make their own call. I do believe that the reason that flag still hangs there is, you know, what I would call sort of 'tradition' or something like that." After getting some backlash on the issue he changed his position to saying the Confederate flag should be taken down. But apparently up to that point he had no problem with it. It appears he had no idea how offensive this symbol was to blacks until the other day.
I thought that pointed to a huge divide between whites and blacks in this country. Most whites don't seem to understand the disdain blacks have for the flag. I wondered why it is that Jackson and others of his race have to put up with this? I then thought "you would think he would do something about it rather than just lament."
I know you all think there is nothing he can do. It is a First Amendment issue involving freedom of speech and hate speech is one of the permissible forms of speech. That may be so but there is a way around that, a good way. Not by a law from Congress that can be played with by judges or enforced by some prosecutors and not others. Not by a law that will get entangled in the intricacies of the First Amendment .
This law would be one that would require those in office to either stand up for the blacks or tell them to get over it. It would be one of those times in our history where every elected official will be required to show their colors. It would not be a law passed by Congress but one enacted by the people: it would be a Constitutional Amendment specifically declaring that the First Amendment does not apply to any law outlawing the public display of the Confederate flag or any symbol containing it.
If the Confederate flag is to the blacks in America what the Nazi swastika is to the Jews in Germany it should be removed from public display. You have to be oblivious as Governor Baker not to have recognized as John Stewart described it talking about the Charlestown murders,"the nexus of a just gaping racial wound that will not heal."
Time to stop pretending the gap does not exist and is becoming wider. Time to come together as Americans to start to clean our house of hatred. Let's kiss the flag goodbye and point America to a better tomorrow. Time for a Constitutional Amendment outlawing the Confederate flag.