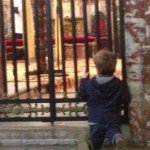 At 3:40 p.m. Judge Denise Casper held a hearing on Carney & Brenan's motion to delay the start of the trial until they get their discovery relative to the state police report that John Martorano is back at his old game of being involved in criminal activity and is being protected by the state police.
You may recall the last time this came up the prosecution told how the state police trooper who made the report retracted it and indicated it had no substance. If that's the case I figured it would be highly unlikely for the judge to delay the opening on Wednesday. So I was wondering what new information Carney would come up with.
J.W. Carney in a forceful, calm and steady presentation that belied the force of his words presented the argument on behalf of Whitey claiming the government was giving Martorano promises, rewards and inducements for his testimony by foregoing the prosecution of him and his friends for their criminal activities and stopping any investigation of him which it is not disclosing. He alleged John Martorano, Kevin Weeks, James Martorano and Pat Nee have been engaged in criminal conduct since they got out of prison, that the government knows it and had done nothing about it.
He told how a trooper with twenty years on the job, 15 years with organized crime, with an unblemished reputation for integrity, and a noted work ethic was stopped short in his investigation of Martorano. This was done according to Carney by Martorano's handler Lieutenant Steve Johnson of the Massachusetts State Police who is the liaison to the prosecutors in this case.
After the trooper made the allegation it was investigated by the state police and the trooper was punished for making the allegation. He said the underlying reports about this matter are known by the state police and the U.S. Attorney's office but not by the defense. Carney called this "a shocking discovery violation." He says he been told by the US Attorney that the allegations are unsubstantiated yet he doesn't know what they are.
Carney went on to say they gave him reports to show the allegations were not true but those were a joke. They consisted of interviewing Martorano and his accomplice and asking them if they were committing crimes. He called the reports bogus. He said that when AUSA Wyshak responded in court to his request for these last week the head of a unit of the state police called the statements that Wyshak made "inaccurate and outrageous."
Carney said he wanted all the reports, the allegation, the investigation into it, the investigation of  Lieutenant Johnson in the possession of the state police and the US Attorney. Carney said what has not been turned over is the critical core of what should be turned over. He said it wasn't up to the government to decide if this information was substantial.
He said the government kept Johnson and DEA Agent Doherty off their witness list when they should be there as the main investigating officers. This he said is their attempt to hide what Johnson knew of Martorano's activities opining: "It's a cover-up!"  He went on to say if the trial is to be fair he needs those materials. If the trooper who complained is disciplined this is a repetition of what has been happening for 30 years from Joe Barboza and up through Mark Rossetti  where government forgoes prosecution of its witnesses. Carney says he wants "the raw material" so he can investigate the allegations and asks that the opening be delayed until Monday so that he can use what he finds in his opening statement.
AUSA Fred Wyshak responded in a slow deliberate manner explaining what Carney seeks does not go to the guilt or innocence of Whitey; nor to the promises, rewards or inducements to Martorano. If Martorano doesn't know about these things then it doesn't reflect on his state of mind. In fact, Wyshak said, if asked Martorano will deny he had any protection from the government and will say what the government told him was he had to keep clean and stay out of trouble.
He said Carney would allege anything just to get a headline. There was no need to put Johnson on his witness list because this was a historical investigation and he had no direct knowledge of things. He said Carney can ask "til the cows come home" and the answer will be the same: there were no promises or protection given to Martorano.
Wyshak said Carney knows who the trooper is. In fact his name is on his witness list. He said the trooper wrote the letter to the AUSA anonymously. He lied under oath when asked if he did it. He only admitted it after they discovered it on his computer.
He continued by saying he had no obligation to turn over the unsubstantiated information to Carney but in an abundance of caution showed it to Judge Stearns who issued a protective order on the information putting it under seal.
Judge Casper said perhaps at the time Judge Stearns sealed it the materiality might not have been clear to him. The situation is now different. She wondered if Carney shouldn't get all the information available. Fred Wyshak responded: it's not material to the guilt or innocence, it can't be used to impeach Martorano, and it has nothing to do with promises, rewards or inducements to Martorano since he knew nothing about them. All we have is an unsubstantiated allegation that Martorano is involved in ongoing criminal activity and Carney is not entitled to know the underlying source information.
Wyshak noted it is of great concern to the government to ensure Martorano is not involved in criminal activity. He concluded by saying the government has fulfilled its obligation. He then said Carney really knows all he has to know and had talked with the trooper's lawyer in court yesterday. That all Carney wants is headlines and delay.
Carney came back saying he's not on a fishing expedition. This material was known to the government in December 2012 and reports were done in mid-January 2013 and the government did not give them to him until May 17. Wyshak said we only have to give the material under the Rules 21 days prior to trial and he followed the Rules.
Judge Denise Casper appeared bothered by this matter. She said she needed time to digest the reports and the issues. She took it under advisement. Tomorrow we should know more.