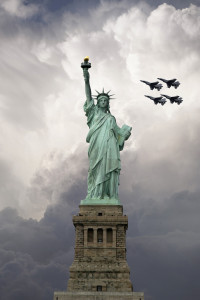 Not like the brazen giant of Greek fame,
With conquering limbs astride from land to land;
Here at our sea-washed, sunset gates shall stand
A mighty woman with a torch, whose flame
Is the imprisoned lightning, and her name
Mother of Exiles. From her beacon-hand
Glows world-wide welcome; her mild eyes command
The air-bridged harbor that twin cities frame.
"Keep, ancient lands, your storied pomp!" cries she
With silent lips.  "Give me your tired, your poor,
Your huddled masses yearning to breathe free,
The wretched refuse of your teeming shore.
Send these, the homeless, tempest-tossed to me,
I lift my lamp beside the golden door!
Thus is the inscription  of the pedestal of a statue which was a gift from the people of the Republic of France that honors "the Alliance of the two Nations in achieving the Independence of the United States of America and attests their abiding friendship."  it is meet and just that we think of this in these tragic days following the Paris attacks.
An immigrant from Greece recalls  looking at the Mother of Exiles saying:  "I saw the Statue of Liberty. And I said to myself, "Lady, you're such a beautiful! [sic] You opened your arms and you get all the foreigners here. Give me a chance to prove that I am worth it, to do something, to be someone in America." And always that statue was on my mind."
The statue was dedicated in 1886. That was about the time my grandparents came to this country. Their welcome was questionable. Irish Catholics were considered somewhat akin to what we consider today's Muslims.
It was barely ten years since the Irish miners who went on striker were hung in one of the biggest mass executions in our country's history on what was called Black Thursday and also The Day of the Rope, June 21, 1877.  The man who owned the mines where the strikes had occurred was the trial prosecutor. No Irish Catholics were allowed to sit on the jury.
All defendants were convicted. Ten were hanged on the Day of the Rope,  another ten would be hanged over the next two years. "The Philadelphia Public Ledger encapsulated the national feeling when it previewed Black Thursday as a "day of deliverance from as awful a despotism of banded murderers as the world has ever seen in any age.""
My grandparents' children loved this country. Many served in the armed forces. They taught their children to be loyal to our country first and foremost. We too served the country in the armed forces and in many other ways claiming the United States as our home as much as any other person who may have traced his or her heritage back to the American Revolution. It was not just my Irish family but millions of other of Irish descent who acted in the same way. Many, including my grandmother who was a gold star mother, lost family members who served bravely in the armed forces.
It is not just an Irish story. It is one that can be told by every other immigrant group that arrived here. The Italians and Jews were suspect as we entered the 20th Century because among them were some anarchists. The Germans had anarchist too, Johann Most, the grandfather of Johnny Most was a prominent one. They were also looked at with suspicion and kept low profiles during WWI and WWII.
The Chinese were barred after a time; the Japanese would be rounded up during the 1940s and put in prison-type camps. Even the Puerto Ricans were looked on with a jaundiced eye after Lolita Lebrón led an attack on Congress in 1954. Mexicans poured in by the millions over the decades and have become as good of Americans as the other immigrant groups. And African-Americans and other blacks many of whom were dragged here in chains and suffered even into the 1960s under our Jim Crow Laws greatly benefit our society.
A Muslim Marine recently said:   "I had a lot of conversations about life with my father growing up, who said we're fortunate to live in America, a land that's offered us freedom of religion and speech. He also told us that those freedoms come with responsibilities. . . . The Prophet Muhammad said that being loyal to your country of residence is part of faith. As a young man, I wanted to serve my country by enlisting in the Marine Corps. My father was 100 percent supportive."
America is great because we have overcome such groups as the American Party, also known as the Know Nothings,  that flourished in the 1850s. Its members  opposed Roman Catholics and other immigrants. It was extremely popular in Massachusetts. Also the Ku Klux Klan  first created to suppress blacks and in the early 20th Century to protect American from the threat of the Catholic Church as well as Jews, blacks and other recent arrivals from Southern Europe such as the Italians.
The groups of hate pointed to a handful of bad apples that existed In every group of refuse that washed up on our shores to justify their beliefs. Fortunately we never kept a group out because of that. But today again the ugly specter of hate is again being disseminated.
There are over 3 million Muslims living among us who have bought into the American dream like every other ethnic or religious group. The Muslim Marine noted he hopes the American " people know Islam because of the good works we do, instead of some of the extremist interpretations of Islam that are out there. . . . "
We will overcome the present fear of Muslims that is being generated by political demagogues. We will recognize that we have no more to fear from their religion than the prior generations had to fear from us Catholics. They will blend into this quilt we call the United States which is another way of saying we are a United People. It is and will be our diversity that gives us our strength.