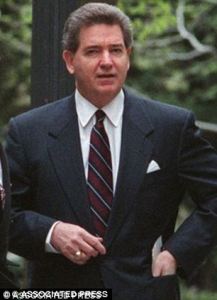 Yesterday I posted about a memo about John Connolly the FBI agent scheduled to die in prison for a crime he did not commit. That is here.
Now I'm not a believer in the "deep state" or "dark state"  or whatever you call it. There are too many good people in America for such a cabal to arise. But in Connolly's case there are lots of things that leave me scratching my head wondering what's going on. If I believed in one of those "states" the Connolly case would surely fortify that belief.
I suggest that because some mighty odd things have happened to John Connolly. Back years ago I wrote a book about his trial "Don't Embarrass the Family." Anyone who read it would know that I'm not a fan of Connolly who by the way is no relation. When John got sentenced back in 2002 to ten years in prison I thought perhaps that was a little harsh since he was acquitted of the major charges against him.  But he did do some things that seemed unusual for a retired FBI agent such as using Kevin Weeks, who was Whitey Bulger's sidekick and participated in murders with him, to convey messages back and forth to Stevie Flemmi (another guy with a dozen or so murders) who was incarcerated in the County of Plymouth jail for the purpose of helping Flemmi and his gangster buddies beat racketeering charges pending against them in federal court in Boston.
As far as I know there was nothing criminal in what he was doing but to my way of thinking he should not have been doing it. He also wrote a letter to a judge holding hearings wrongly suggesting other police officers were involved in committing crimes such as running "gypsy wiretaps" again for the purpose of helping Flemmi. Sure, Flemmi was his high level informant but why was it after over 20 years in the FBI he felt an allegiance toward him rather than the court.
Although I wondered about Connolly I could not help but also wonder about the prosecution of him. Something about it seemed odd. A trial lawyer sitting next to me in court  expressed what I was feeling when he said to me: "Is this case fixed?" I thought, "it looks like it." It was hard to put my finger on anything specific but having been in courts all my life on both the prosecution and defense side it was good to know my feelings that something was off was not particular to me.
I guess I settled on the explanation as set out in the title to my book that the reason Connolly was being prosecuted was because the FBI had been embarrassed by him. The embarrassment stemmed from something the FBI knew he was doing but it was supposed to be secret and kept behind the Bureau's walls. His specialty was working with Top Level Informants (TEI). This program, which still continues in the FBI, is where  the FBI enlists high level criminals to give it information in exchange for the FBI's help. The help varied.
The FBI likes to pretend the TEIs were doing it out of the goodness of their hearts. But anyone who has a smidgen of knowledge of big time criminals know they want something for their cooperation. Connolly had more than ten TEIs, probably as high as fifteen or more over his career. Every TEI he enlisted had to be approved at the highest levels of the FBI and would be known to the agent in charge, the assistant agent in charge, and his supervisor.
In other words Connolly was not on a frolic of his own when he was dealing with TEIs. He was doing his job. And, as we see, it was a very dangerous job because again those who know hardened criminals know that adage that "there is no honor among thieves" came about because of its absolute truthfulness. A high level gangster will turn on anyone to save himself.
Why the FBI  was so embarrassed was because one of Connolly's TEIs (Flemmi) – the guy Connolly was trying to help – publicly disclosed during a court hearing on a motion that he was a TEI. Not only that, he said his partner in crime was also a TEI. That man was James "Whitey" Bulger.
Flemmi testified that as a TEI he was given the OK by Connolly to do anything he wanted as long as he didn't "hit" anyone. If his claim stood the case against him would have been tossed out of court.
Just imagine how sensational that news became. The Boston media cried out for an explanation asking how could the FBI be dealing with Flemmi and Bulger. Although these two criminals operated pretty much out of the public eye the media treated them as they were as notorious as Al Capone. Eventually it would be said of Bulger — "he terrorized the Boston area for 25 years" — when truth be told few ever heard of him outside of law enforcement and in the South Boston section of Boston.
To limit its embarrassment the FBI suggested that Connolly was a rogue agent. That was the beginning of the strange journey Connolly was about to make. I'll tell more about that tomorrow.