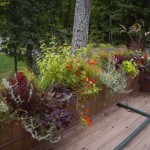 It's Sunday, a day of rest.  If the Lord could take one day off in seven, I think it is appropriate for me to do the same thing and take time to reflect.  I was thinking that if Genesis were written today, it would read something like "On the Seventh Day the Lord watched the NFL football games." Fortunately for the N.E. Patriot fans, today is a by-week and the weather outside is beautiful in New England so they can really take a rest and spend sometime outside raking leaves rather than listening to commercials. Did you realized during a typical NFL game more time is devoted to commercials than to the actual running of plays?
I've heard the people on Madison Avenue are trying to figure out a way to have programs that are all commercials. They've developed one along the line of American Idol.  New commercials will be played in front of three judges and the public will vote for the best commercials. They'll then be shown against others until we have an American Commercial Championship. Some suggest it could do away with the NFL and those messy concussions. The producers are not quite sure they can fool all of the people all of the time.
I just want to briefly touch on something that has bothered me and it is the misuse of our language. This became clear to me as I was writing about Billy Bulger. I have to use Howie Carr's book where he says on the front cover that Billy and Whitey "corrupted Boston" for a quarter of century.  Then we know he  has endlessly repeating Judge Daher's statement that Billy is a "corrupt midget." We've read how Alan Dershowitz says just about everyone in public life in Massachusetts is corrupt except him and perhaps his lawyers.
But it doesn't end there. People who comment on my blog often use the words corrupt with respect to judges, prosecutors and others. I begin to think that if so many people are corrupt no one is corrupt because corruption implies a deviation.
I've begun to ask myself what exactly does the word "corrupt" mean? Can I say of someone who does something I don't like that the person is corrupt?  If that were the case all those judges who ruled against me, or lawyers who disputed with me, or people I met in public whose opinions I didn't like, or even all the people who support a candidate I don't like I could call corrupt. Is that what all these people mean when they say others are corrupt, that these people disagree with them.?
To me it means someone who does official acts in exchange for private gain (usually monetary), or outside public life people like Whitey or Weeks who live lives of crimes.  (I received an email telling me Kevin Weeks is going to speak at a temple in Newton tonight. What is it with these suburbanites who want to live dangerous lives by being the same room with gangsters?)
I've gone to the dictionary to try to find out what corrupt means.   The Merriam-Webster defined it as: " to change (a language) in such a way that standard forms become different from earlier forms regarded as better or purer."  That's apparently what is happening that a word that once had significance no longer possesses it and is tossed around loosely. " The meaning I associate with it is more like Merriam Webster's other definition, "to become morally debased, perverted from right principles, weakened, or unsound."  It is defined in the Oxford English Dictionary as: "Debased in character; infected with evil; depraved; perverted; evil, wicked."
It seems to me to suggest an ongoing characteristic.  It is not that one person did one bad thing at one time, it incorporates a change for the worse in a person or institution.  To suggest Billy Bulger corrupted Boston or a politician or court is corrupt seems to me to be beyond the definition of the word which refers to a way of life, for example in politics, we have Spiro Agnew as an example.
I can't get over the corruption of the word corrupt which is now used by many people to mean no more than the person did or does things differently than I do therefore the only explanation for that is the person is morally debased.  I'd like it if we could go back to the original meaning and if we believe a person or institution is corrupt, tell us what the evidence is for it.  Too many people have been hurt by loose language.  I hope I'm not guilty of it, which I must be at time, but I'll try to avoid it in the future.