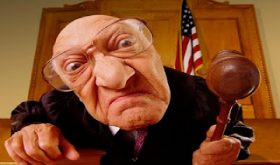 One thing the judges of the Massachusetts Supreme Judicial Court understand is that they get paid out of the Commonwealth's treasury and if they hope to get another pay raise in the near future they have to protect it to the utmost.
Remember Annie Dookham who ran amuck in the state drug laboratory  causing a great furor. Annie made it possible for thousands of drug users and dealers to get their sentences set aside. I was asked what I thought the effect of that would be: I suggested it could top the Big Dig if things worked out like they normally should. I figured all those who were wrongfully incarcerated would have to be compensated, and the money seized returned, and the fees assessed by the courts would have to be returned.
After all if you are convicted on tainted evidence then you are to have your conviction set aside. The exclusionary rule keeps tainted evidence out of a trial. Evidence wrongfully seized, confessions wrongfully obtained, or evidence tainted by actions of state authorities is not admissible. If without that evidence the state is unable to prove its case then the person charged goes free without any penalties. It is sort of a stupid system where guilty people go free but that's what we have.
All the drug evidence that Annie had access to is tainted. None of the people whose drugs she analyzed should have been convicted. Those that were had their convictions set aside. One such person was a guy named Pierce A. Martin.
The decision in his case, Commonwealth v. Martin, is here.
Martin pleaded guilty to possession of marijuana with intent to distribute. He  was sentenced to probation. He paid probation supervisory fees ($780) and a victim witness assessment fee ($50). When he learned of Annie's doings he filed a motion to withdraw his plea of guilty which was allowed. The DA then decided he would not prosecute the case because he did not have the evidence to prove Martin's guilt since the analysis of the marijuana being tainted was not admissible.
Martin seeing he was not guilty of anything thought he should be able to get the money he paid back. It seemed logical that he would not have to be out that money where he wasn't convicted. But the Massachusetts judges said: "no way." They feared a run on the Commonwealth treasury which might impact the amount of money available to pay them.
They said the Legislation imposing the victim witness fee only allowed it to be returned if the person won on appeal. If the person was convicted wrongly and received a new trial at which he was acquitted he still had to pay the fee. After spending much time telling us the Legislature intended the money be returned only if a person won on appeal it did admit that in another case (Zawatsky) the assessment was set aside when a judge voided a conviction for lack of jurisdiction.
How's that? Did only not mean only? To get around it double talk it hoped we forgot the only on appeal part so it added it can also be set aside for lack of jurisdiction (it is void) but cannot be set aside if the court has jurisdiction and sets it aside. (it is voidable).
As I've pointed out, the judges make up the law even when it makes no sense. You and I know whether your conviction is set aside on appeal, by a new trial, or by a refusal of a prosecutor to go forward with the complaint against you the result is that you were not convicted. Why then would a court want to split hairs and say somehow those are different things when it is obvious that a person who has not been convicted of anything should not be charged a victim witness fee.
Then there is the matter of the probation fee. Martin is out-of-pocket $780 having been put on probation when he should not have been. Had he been sent to jail then he would not have paid the fee and would have been released. I'm not sure if he would be entitled to be compensated for the time wrongfully spent in jail. But if you are wrongly placed on probation why should you have to pay for that.
So you would think he gets back that money. But not in Massachusetts. The court said defendant did not point to a statutory basis for him to get the money back. When one deals in equity, that is what is right and just, you do not have to point to a statute. You rely upon a judge being able to tell right from wrong. The simple question is whether a person who has not been convicted must pay a probation fee.
Martin conceded during oral argument that the probation fees are financial penalties or fines. The court wrote the opinion as if he didn't do that. It agreed with him. It cited an old decision noting those fees are "to defray the costs associated with the provisions of services to probationers, as an alternative to prison. . . . suggesting a nonpunitive, regulatory purpose." The Martin court also cited a case that said: "the primary goals of which are rehabilitation of a defendant and protection of the public; the fees themselves suggest more of a civil than a criminal orientation."
Had Martin not been wrongfully convicted he would not have worried about an alternative to prison or needed rehabilitation nor would the public needed protection. Whether it was a civil or criminal assessment it is improper since he was innocent under our law.
Keep in mind if you have to go to court make sure the remedy you are hoping for does not affect the court's pocketbook.