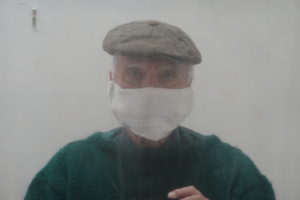 I've advocated we all make our own masks. They won't give you the protection of a medical mask but they do provide up to 83% of that protection according to tests. The best protectors are the ones made from dish towels. Those made from cotton or cotton blend material such as undershirts give around 69% or more protection compared to the medical mask. The tests showed that making more layers do not add significantly to the protection.
There are many skeptics out there who pooh-poohed my suggestion. But one of them is not the Government. I read this is in Monday's New York Times: "Anderson Warlick, the chief executive of the textile company Parkdale Mills, said Mr. Navarro had called him early last week to ask what the company could make. By Saturday, Parkdale Mills joined Hanes, Fruit of the Loom and other companies in announcing a coalition to produce masks.  But they are not the kind hospitals most need. The new masks will be made of a three-ply underwear fabric, and do not provide the level of protection given by the N95 masks that health care workers need for intubation and other procedures. "It's not something you're going to wear in the operating room," Mr. Warlick said of the companies' mask. "But you've got people out there today — it's kind of pitiful — wearing bandannas and everything else."
Peter Navarro, the White House trade adviser, is playing a leading role in dealing with this crises. The government is having these companies make masks which we can make at home and do them better (by using dish towels) than what the government does. Thinking of the old expression "put your money where your mouth is" I set off to make a mask. While doing it I thought that this could be a great family project involving all the kids. Not only could they make them they could put their own designs on them.
Before I begin I should set out my qualifications. I watched other people sew. When I was a kid I used to thread a needle for my mother. I know my wife's sister Nadja and know a woman called Martha who could make clothes with the machine. My wife can do some things with it like make kids clothes. How a sewing machine works totally baffles me.
I've seen those envelopes that contain patterns and seen how people use them. I learned to sew a little when I was in the Marine Corps because we had to sew buttons back on if they fell off our shirts. In other words I know how to thread a needle and sew buttons. Beyond that everything is mysterious.
I thought if I can make a mask so can everyone else. I thought that doctors, nurses, and other health care workers would not be wearing masks (when they can get them) if they are not effective. Isn't 60% to 90% protection from other masks better than no protection. If you were going into combat and the only bullet proof vests you could obtain offered you only 90% of the protection the best bullet proof vests offered would you turn them down?
In our homes we can better protect ourselves with our homemade masks than the government made masks if we use dish towels rather than the "three-ply underwear fabric."  The result of my first attempt as a sewing neophyte is shown above. Imagine what a person with a tiny bit more skill could do to protect his or her family. I'll show you the steps in a later post.