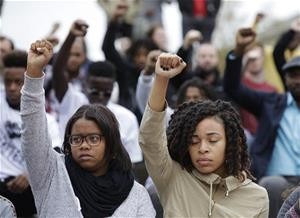 The media incites racism as you know. That is clear from the Washington Post article that turned a non-racial matter into one involving race. It was a simple event. I wrote about it in my Monday post.
A guy, David and his wife, who are white, went to bed and were kept awake between one and two in the morning by noise coming from Richard's apartment above them. They had no idea who Richard was but left a note complaining to him about it. Richard happened to be black. When he got the note he felt insulted. So he wrote a letter back to David.
He was so proud of his letter that he published it on Facebook even before giving it to David. Now all poor David knows is the guy up stairs woke him up in the morning. He then finds this note which reads in part:
"To: The Passive Aggressive Neighbor and His Wife Apartment 5J: From: Richard Apartment 6J  Re: I'm Finna Tell You What You Not Goin' Do.
I should note Richard has his Masters from Colombia. He is very proud of it because he puts "MPA" after his name in this letter. The problem here is Richard's clamor in the early morning hours which he will both deny in the beginning and admit at the end by telling whitey he'll make whatever noise his wants. He refers first to the note he received. Now get this: 
He writes it was "both improbable and juvenile" for them to suggest that his voice caused them to lose sleep. Apparently David and his wife imagined there was noise coming from his apartment.  Then he reverses and said if that was the case then David and his wife's note was "aggressive posturing" and "unnecessary" and "unproductive."
 He's just warming up. His second point is they lack "interpersonal and intrapersonal intelligence" which reflects "poorly on [them] as a neighbor, and frankly an American."  It is good he is not in charge of deportations.
He then says he is one of the few people of color in the building so he finds it "personally abhorrent" they threaten to bring in the authorities "for an insignificant infraction" noted in their "poorly written and ill-thought out correspondence."
Now he gets to the nub of it. "As a Black man, I take these overt actions as a direct threat to my physical and psychological well-being and as an act of violence upon me." He then refers to a list of 821 people killed in police custody that year. He goes on: "This threat cannot be taken lightly" He's going to submit formal complaints to the police, the ACLU, and District Community Board to make them "aware of your callous and irrational threats upon my person."
He then quotes "Robert Jones Jr., 'one of the great divides between white people and black people (or the wealthy and not wealthy) is noise.' He tells them what they can expect: "Look forward to me continuing to make it at the volume that I determine is acceptable" admitting his prior infraction. He ends by saying "Should you feel the need to threaten me again, please do so in person so that an amenable solution can be reached."
Then he signs off: "Richard Scott Brookshire, III, MPA,- Your #VeryBlackNeighbor –  #blacklivesmatter
 I'll tell you one thing, I'd never want to work with Richard. Even worse how are we ever going to live together as people when some carry this type of grudge against those of another race especially when they have no idea there are racial differences. Most abhorrent, to use one of Richard's words, is this having been featured by the Washington Post here as if it was an appropriate response. It ginned up more anti-white responses. It's hard to escape the conclusion that the Washington Post is on a course to increase racial tensions.