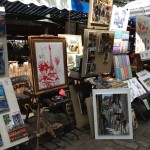 The Federal Bureau of Prisons (BOP) has an online site that tells us where its prisoners are located. Interested in where your favorite prisoner is spending her time, go to the site, type in her name and you'll be given the information What's good about the site is that it even tells about prisoners that have been released.
Here's a person I am interested in: Thomas Sperrazza. If you go there you'll find out his number is 13696-02163 and that he is a 63-year-old white male. He was released on August 4, 2005, at the age of 55. Not bad when you're supposed to spend the rest of your life in prison or had the crimes been committed in other states than Massachusetts you'd have been executed.
Looking for Whitey, put in James Bulger. You'll find his number is 02182-748. He's an 84-year-old white male. His release date is unknown and he's not in  BOP custody (yet).  Stephen Flemmi, 20431-038, a 79 years old white male is not in BOP custody. John Connolly , 22928-038,a 73-year-old white male released on June 26, 2011. (He's now in Florida doing a 40 year sentence.) Richard Schneiderhan 23403–038, a 79-year-old white male released on October 4, 2006. Kevin Weeks, Francis Salemme and John Martorano no record of being in BOP custody. Apparently, if you make a deal with the federal prosecutors then part of that deal is that you do your time outside of the BOP. In other words, someone other than the BOP is taking care of you.
I find it a strange system where persons can be sent to prison and not end up in the custody of the Bureau of Prisons. I guess it is one of the benefits of cooperating with the federals. It must operate outside the normal strictures of the the BOP which gives the federals lots of flexibility.
That's why I have a sneaky suspicion that the worst criminal in the history of Boston and one truly named Benji Ditchman, Stephen Flemmi, has a deal that he will be released from prison once Whitey is out of the headlines. I remarked during the trial that the federal prosecutors would not agree that despite doing a life sentence he will not be freed. They suggested it was not probable. But it seems to be a pattern that they go through. They'll find a friendly defense lawyer for good old boy Flemmi (remember prosecutor Wyshak and Flemmi jointly finding humor over Halloran's nickname Balloon Head in the Florida trial) and the lawyer will sub rosa file a motion for his release. They federals will go along with it and Flemmi will join the chorus of murderers walking Boston's streets.
I mention the federals and deals because one who got a very sweet deal was the first mentioned Thomas Sperrazza who as we see was released on August 4, 2005. If you are familiar with my book, Don't Embarrass The Family, you'd know that Sperrazza was convicted of first degree murder in Norfolk Superior Court.  That meant he had to serve life in prison without parole which means if he served his time in the state he would never get out.
The Norfolk conviction was for  – I'll let former Globe columnist Richard Connolly tell the story:
"In February 1975, Sperrazza and Stokes, fellow escapers from prison, had offered a ride to Karen T. Spinney and Susan C. Webster, both 18, of Jamaica Plain.
Webster had been a friend of Sperrazza. Spinney did not know the two men and apparently went along at the suggestion of Webster. The group stopped at a Roslindale pub where Sperrazza became involved in a confrontation with a friend of Webster's.
Sperrazza fired a gun at the man, wounding him and killing another man, Ralph Cirvinale, a 22-year-old junior insurance executive, who was standing in front of the pub. Sperrazza was sentenced to life imprisonment for that crime.
On the night of Cirvinale's murder, Sperrazza and Stokes killed Spinney and Webster – on instructions from Connor – because the women had been witnesses to the shooting of Cirvinale.
The bodies of the women, who were stabbed in a Quincy apartment, were buried in a wooded area in Northampton and were not discovered until Connor, an informant looking for a deal with Delahunt's office, directed police to the site two years and seven months after the murder."
It would turn out that Sperrazza not only murdered Karen Spinney, Susan Webster and Ralph Cirvinale but he also murdered Boston Patrolman Donald A. Brown on May 24, 1974, during a shopping center holdup in Roslindale and while in prison, his buddy in crime, "John F. Stokes, 24, who was stabbed 55 to 60 times in his cell at State Prison in Walpole on June 14, 1976."  
Sperrazza would write letters from prison and sign his name: "Manson" and he is rumored to have said "once you kill your first person, the rest are easy." Not such a nice guy but he worked out a deal with the federals. So you can add to your list the number of people from the Boston area who have committed five or more murders who are freely walking the streets courtesy of the federals one more person. It's hard to believe we execute people in this country for one or two murders but those who murder as many people as we have fingers on one hand who work with the federals are let loose to prey upon us.
I should mention Sperrazza got a good deal because he implicated Myles Connor in some of his crimes – we've seen that act before with Whitey how Flemmi murdered his girl friend and said Whitey made him do it and Murderman had Whitey in a back up car somewhere.
Why were the federals so interested in Myles Connor that they'd deal with such a devil? That's another strange story but let it suffice for now to say that the federals sought the help of Whitey Bulger and Stevie Flemmi in their pursuit of Connor. Connor by the way was acquitted of all the charges leveled against him where Sperrazza testified.