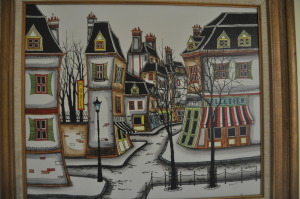 For the first time that I can remember I have not watched one game of the March Madness tournament. It came up upon me suddenly even though one entity that runs the bracket picks kept emailing me to remind me I had yet to join in. I have to think my loss of interest in it was not sudden. For the past several years it has been diminishing. One reason I'm sure of is that the team I liked to follow Boston College has turned in a performance in basketball that is just awful over the past few years.
Another one is the one-and-out or two-and-through type of college basketball that has become the norm. The young kids play for a year or two and go off to join some professional team for big bucks. I can't blame them; they have the talent and will have a long life so it's best to try to ensure one won't end up on the dole. Unfortunately they are surrounded by  a multitude of wolves willing to relieve them of their money and the end result is they are deprived of both money and education.
I've read that Kentucky is expected to win it all this year. It should. Its coach guarantees his players they won't be bothered by any academic courses and they can continue their ignorance throughout their lives because they are such good athletes they can leave after a year or two but if things don't work out in life for them they can always look back upon hoisting the trophy for Kentucky even though none has a relationship to Kentucky and never will have after they leave.
What is there to watch or cheer for when the best teams have guys that have no real allegiance to the colleges that have hired them? What is the purpose of our colleges and universities with this practice of bringing in hired guns, keeping them dumb, and being dumped by them year after year?
I guess it is all that and the manner in which I'm repelled by television commercials that add up to my decision not to participate in this ultimate fraud that pretends colleges and universities have students playing on their basketball teams.
—–
Then there's the Red Sox a team that I once liked but no longer. I've written before about the lack of long-term players that one gets to know and cheer for. I would guess that I lost interest in them when I no longer could identify the starting lineup of the team. But along with that it was the idea that the people playing on the team had no real connection to Boston being willing to go someplace else where the gold shone  brighter.and only coming here for the same reason. Again, I don't blame the player for getting his fair share of the profits but I really don't give a damn if a guy making 10 million bucks or more a year gets a hit or strikes someone out.
Baseball at one time was America's sport. It was a place where kids from the corn fields or the city streets could get a chance for a better life. Babe Ruth of German stock from Maryland spent 12 years in a reformatory; Ty Cobb from the sticks of Georgia; Willie Mays dirt poor from Alabama; Hank Aaron the same as Mays; Ted Williams from San Diego seemed to have a middle class existence; Lou Gherig a dirt poor German from Manhattan; Jackie Robinson dirt poor from Georgia; Mickey Mantle like Williams had family support in learning to play, his father was a miner. The DiMaggio brothers all from a poor family in California where the father was a fisherman.
Now with the affluence in America the number of Americans playing baseball has diminished. The best players now, looking at the Red Sox roster, seem to be kids from Hispanic families who grew up in other countries than America experiencing the hard times American kids used to know.
By the way, I wonder if you can guess who was the best, if not the first, Hispanic player on the Red Sox.
I just mentioned his name. He allegedly said that if he grew up using his mother's maiden name Venzor that he never would have had the chances in life that he did. Makes one wonder how many good players we may have missed because too may people made judgments reinforced by prejudices. Makes one amazed how much things have changed.