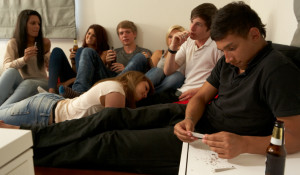 David Brooks, wrote a column telling how he used marijuana and suggested the adoption of laws allowing it to be sold recreationally was unwise. The trenders made widespread attacks distorting his position. The gist of his article was the people who did not get hooked on marijuana contributed more to society than those who did; and, by legalizing it the state encourages its use.
That is how I look at it. When marijuana use becomes legal then society will suffer because those in their teenage years will find no stigma attached to its use and become more exposed to it.  Hopefully, the parents of these pre-teens and teenagers will avoid their recreational use of it in front of their kids. How likely will that be?
Some suggest it is no worse than alcohol: I'd just say it seems unwise to impose a wrong on people because there may be another wrong. Being wise to alcohol I know one or two drinks for most people has no effect, however from what I can see one joint may.
A good article on the matter by Matt Schiavenza notes how Asian countries aren't likely to legalize it any time soon. I have noted how the Asian students in America have become the cream of the crop at all the top schools. I would suggest it is no coincidence that a respected psychiatry journal reports: "Asian-Americans had the highest prevalence of perceived parental or close friends' CU [cannabis use] disapproval."
My personal experience has shown me that the kids I knew who used marijuana did less well in school than those who avoided its use. A couple of youngsters I knew were doing very well in school until they got involved with it. There are never going to be any statistics to show its adverse affects in the sense that Child A would have been at the top of her class if she had not started smoking grass. Some things can never be shown. Ask any responsible and caring parent if she would like to see her son or daughter using marijuana while a teenager I would have to guess you would receive a resounding negative answer.
I understand that we do not want to be dictating to others how they should live their personal lives. We do though. We outlaw smoking in restaurants and offices. We outlaw riding on motorcycles without helmets or in automobiles without seat belts. We require infants to ride backwards in cars and young children to be confined to special enclosures called safety seats. It would seem we would also want to continue to outlaw marijuana because its use inhibits the ability of some teenagers to achieve their best results in school.
Schiavenza suggests that the "central argument in favor of legalization: [is that] The current system, in which people who buy, sell, and use marijuana are subject to imprisonment, poses a far greater cost to society than pot itself ever could. And the disproportional effect of our marijuana laws on minorities and the poor only makes this argument stronger."
There are other ways to address those issue. One way is to make most marijuana transactions civil wrongs, as opposed to criminal. That fits well into my idea that most actions now deemed crimes should be civil offenses.
As far as its disproportional effect on minorities and poor, I assume that suggests that the incarceration rate among them is higher than others. Make it a civil offense and that is no longer the case.
Matt Schiavenza wrote that "As the American competition with China intensifies over the next years and decades, the United States will be forced to confront weaknesses such as income inequality, unemployment, student debt, and high imprisonment. Marijuana use just isn't one of them."
I suggest that he is wrong on that. The more we make marijuana available to our people the less will be our ability to deal with those weaknesses. Increased marijuana use is not going to make us a more productive society.
Those who have read Huckley's Brave New World cannot help to recall the soma pill. I picture marijuana as something like that. In the novel "The citizens of the "World State" have been conditioned to love the drug, and they use it to escape any momentary bouts of dissatisfaction. The problem, as one character identifies, is that the citizens are essentially enslaved by the drug and turned into mindless drones."
David Brooks noted: "The deeper sources of happiness usually involve a state of going somewhere, becoming better at something, learning more about something, overcoming difficulty and experiencing a sense of satisfaction and accomplishment." Marijuana deprives one of that type happiness.
We have an obligation to our youth. The American College of Pediatricians noted last month that legalization "has already raised rates of unintended marijuana exposure among young children, and may increase adolescent use. They state that its use is detrimental to children and explain why.
Some groups who have studied this issue say  the use of marijuana among high school students has decreased, and in some cases significantly. (I can't help wonder who funds them.) I guess the conclusion from those studies is the way to cut down on marijuana use is to make it more available. You are supposed to believe it was the criminalization that drove up the use, sort of like during Prohibition Days with alcohol, and that by taking the sting away from its use made people use it less. Believe what you want but expecting a child at Halloween to eat less candy due to its widespread availability is something I find hard to accept.
I guess it boils down to the belief that the mind is a wonderful thing. Marijuana use does little to improve it. It is best to keep the stigma on its use in the hope that it will send a message to our youth that it should be avoided.