I met and spoke to Martha Coakley only once. That's what she says. I don't remember the incident.
My son went to work for her in the Attorney General's office (no help from me, he's a skilled attorney who felt his talents put to better use in the public sector after many years with big law firms). His last interview before a job offer would be extended was with her. She told him that I interviewed her when she applied for a job in the Norfolk DAs office. She told him she didn't get a job offer. My son figured she was going to return tit for tat and not give him an offer. Fortunately for him she overlooked my actions.
My son worked for her for five years before moving on.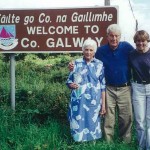 I never met Maura Healey. My son has known her for many years. He met her when they worked together at the major Boston law firm Hale & Dorr. When he went to the AG's office he found she also was there.
If the sign to the left is of any significance, it seems Maura traces her roots back to Galway as do we Connollys. Tribalism alone is reason to vote for her but unfortunately the Irish are the least tribal of people often preferring strangers to their own country folk.
My son sent an email to me, our family and his friends. He didn't ask me to post it here nor does he know I'm doing it but I feel he wouldn't mind if I did. As you know I stay out of politics unless they relate to the law, but this time I make an  exception, for as my son said in his email:
"It makes a difference.  Please vote on Tuesday.

That much I can say easily. I am a little embarrassed to add: please vote for Maura and Martha.  Embarrassed because I don't usually suggest to people who to vote for, but actually very proud of both of these women. I know them well; I worked with them for years; you couldn't do better in terms of quality representation for Massachusetts. I want to be sure not to waste your time so I need to be very concise about these candidates' qualities, so in brief: for the same reasons I find each to be a good friend, each will be a great champion for Massachusetts. 

Maura and I were friends when we worked at Hale and Dorr before we worked together at the Mass Attorney a General's Office. She is neck in neck with Warren Tolman and she can beat this guy on Tuesday. She's about as clear-sighted a person I know about the issues that matter for an Attorney General: making sure blind people can get money from an ATM, making sure that fat cats and the connected don't get their way simply because they grease the system, making sure gays don't face discrimination, coming down hard on those who abuse the public trust, and living humbly and reciprocally with the natural environment.  She believes in these issues and has actually devoted her life to working on them. Check out her campaign ad here:

https://secure.actblue.com/contribute/page/mauratvad


Martha is amazing. When she hired me to work for her, she told me how much she respected my dad's work and judgment at the Norfolk DA's office. For those of you who know my dad, that's enough proof of her good judgment right there! 🙂  I have sat with her in meetings about issues that no one was talking about, that weren't making headlines, that seemed almost trivial for the state's highest attorney to be spending her limited time on, but were very important to the individuals involved. That's Martha in a nutshell. You are guaranteed that when she thinks about the economy, about education, about investing in Massachusetts and everything else that matters for a governor to think about, she's thinking about people first. How it impacts individual people. Like you or me.

I'm writing to you because you are a friend or family member of mine with connections to Massachusetts. Please vote if you're here.  Please spread the word. It will be a tight race with very low turn out. It makes a difference.

Martha Coakley leads polling for primary, general election

http://www.whdh.com/story/26432264/martha-coakley-leads-polling-for-primary-general-election

Maura Healey leads in AG race, according to new Boston Globe poll

http://www.masslive.com/politics/index.ssf/2014/09/maura_healey_leads_in_ag_race.html

'30 in 30': Women Candidates to Watch in 2014 – Maura Healey

http://www.msnbc.com/msnbc/women-candidates-watch-2014-maura-healey

Glad to talk (at length!) if you have any questions for me about Martha and Maura!"