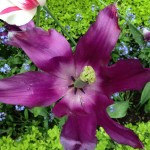 Martorano seemed to be a little reticent in his testimony this morning. His seemed somewhat uncomfortable but as he got to the story of the Wheeler and Callahan murders he seemed to have perked up a bit. He takes a sip of water every once in a while and uses the water carafe to refill his glass. I'm surprised at how steady his hand is in pouring the water and drinking the glass. Nothing seems to bother this guy. Even looking at the autopsy pictures he identifies them as if he was looking at a picture of the swan boats.
The last questions this morning revolved around how he felt after killing his buddy Callahan.  He said he felt very bad. He risked his life for him.  That was the second time he talked about risking his life for Callahan. What he meant is when he went to kill Wheeler in Oklahoma he felt he was somehow risking his life. I didn't quite follow that but then again this is a gangster testifying
Also near the end he told of meeting with retired FBI Agent Paul Rico at the Miami Jai Alai with Stevie Flemmi. This is as you might expect a place with a lot of security cameras so it seems an unlikely place for a former FBI agent in charge of security to be meeting with two gangsters, one of whom was a fugitive of justice. But the reason for the meeting will stun you if you have any idea of the background of the case.
Martorano said Joe McDonald who had helped him kill Roger Wheeler in Oklahoma and then John Callahan in Florida wanted to know what was doing with the sale of World Jai Alai.  The idea behind the murder of Wheeler was so that Callahan could buy that business from her widow and when he got it he would pay Winter Hill $10,000 a week for protection against the Mafia. All of a sudden World Jai Alai that was paying nothing for protection from the Mafia was going to be threatened by it. That never made sense to me.
But obviously once Martorano and McDonald murdered Callahan there was no one left to buy the business. Why then is Joe McDonald sending Martorano to Rico to ask what is going on? This is absurd and shows the extent of lying these guys are involved in trying to make Rico look like a bad agent. There's a ton of things relying on everyone believing Rico was bad that goes far beyond this case.  If that meeting is the only thing the prosecutors have then you must believe Rico has become the most maligned person in American history. The question is why? What's really going in in the background to all these stories?
There's more of his testimony that rings totally untrue but I'm on a short break and want to get this out so I'll end here.