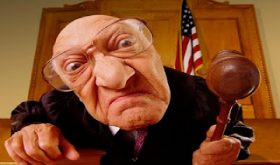 I've written about the simple facts of this case here and here. Boston Police Officer Anjos was looking for three black men who broke into a house. He saw two men who fit the description walking along and they were the only people out on the street this cold December evening. Like two of the three people who broke into the house they were black: one was wearing dark colored clothing and the other a black hoodie.
The judge who wrote the opinion for the all the justices on the Supreme Judicial Court (SJC) said the officer had no reason to suspect these people  because the description was not specific enough and the suspects could have been in places other than where these two men were.
The judge then wrote about how the men fled when approached by the police officers on two occasions. She said flight was relevent to support suspicion but there were two cautionary notes to add. First, under the law a person has "freedom to speak or not to speak to a police officer." Therefore because a person has that right then "flight to avoid that contact should be given little, in any, weight as a factor probative of reasonable suspicion." 
That's a big, big  change in the law. Suppose a police officer hears a window being smashed around the corner. He turns the corner and sees three people standing there. They turn to look at him. One begins to run away. The police officer has to let him go since his running is not "a factor probative of reasonable suspicion."  
If you think that is big change in the law, suppose the man who fled from the police officer investigating the window breaking were a black man. Then there is even more reason for the officer not to be suspicious of him. The SJC writes about the disproportionate amount of stops of black males by police compared to other males. Strangely nothing is said about the disproportionate amount of crime committed by black males as compared to other males.
Her information comes from a Boston police study which she neglects to tell us said: "This comparison does not consider any contextual information such as neighborhoods, crime hot spot locations, or offending populations,.'' Nor did the judge want to mention that in "2010, almost 80 percent of the homicide victims were black while they represented only 24 percent of the total population.
Why do all the judges in Massachusetts Supreme Judicial court ignore that more crimes happen in black neighborhoods than other ones? Why is it all the judges on Massachusetts highest court seem unwilling to protect people living in those neighborhood by recognizing that police officers doing their job will be stopping more people in those neighborhoods where there is more crime?
Ignoring that stops relate to crimes the judge writes for the SJC that because more black males are stopped than other races: "we do not eliminate flight as a factor in the reasonable suspicion analysis whenever a black male is the subject of an investigatory  stop. However, in such circumstances, flight is not necessary probative of a suspect's state of mind or consciousness of guilt. Rather [it] . . . suggests a reason for flight totally unrelated to consciousness of guilt. [A black male] . . . might be just as easily be motivated by the desire to avoid the recurring indignity of being racially profiled as by the desire to hide criminal activity."
In other words if a white man runs you may infer consciousness of guilt but if a black man runs you have to think maybe he's tired of the recurring indignity of being racially profiled and it has nothing to do with consciousness of guilt. Is the same supposition to be made if a police officer tries to stop a car for speeding and the driver doesn't stop? Must the police officer think that if it is a black driver he did not want to stop because he was motivated by a desire not to be harassed by the police? Does that mean the trooper on the highway cannot chase after a car driven by a black man? Is that now a defense to failing to stop for a police officer?
What are we to make of the highest court in a state exempting black men from being treated like white men? One must think how at one time in this country  the 13th, 14th and 15th Amendments to our Constitution were ratified to protect the rights of blacks to be treated equally. The 14th ended with the words: " nor deny to any person within its jurisdiction the equal protection of the laws."
When one race is carved out greater rights than another then things are not equal. One then must think the legal precedent the Massachusetts Supreme Court is following is a paraphrase of Napoleon's statement to Snowball: "all American are equal but some American are more equal than others." 
What is worse is that every judge on the Massachusetts agrees with that precedent. Is that what we can soon expect from the United States Supreme Court when Hillary gets elected? You probably never knew that equal had relative degrees with some people being less equal and others more equal. Too bad the framers of the 14th Amendment had not read Orwell's 1984.