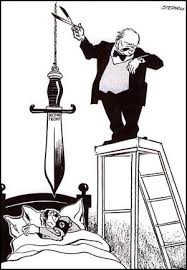 The Boston U.S. Attorney Carmen Ortiz mentioned in an indictment against Teamsters Local 25 that "a representative from the City of Boston" had called two restaurants to tell them that they would be picketed if they let "Top Chef" film in their locations. These businesses elected to cancel their deals in order to avoid the picketing. No one has said that the call, the threat of picketing, or the cancellation violated any criminal laws.
The words were put in the indictment as far as I can see for the sole purpose of providing Ortiz a sound bite for her press conference. She would pontificate in front of the media that Local 25 "chased" the reality television show out of Boston which it didn't because it had already filmed at other Boston sites.
But those words have been turned around in the local media to suggest Mayor Marty Walsh did something wrong for which he owes the people of Boston an explanation.
One thing we know is that Ortiz knows who made the call to the restaurant. Why she kept it a secret rather than naming the person is a mystery. Was it her intent to cast a bad light on the mayor or others who she knew did nothing wrong to cause a scandal?  If so, she has well succeeded.
After the indictment came down, an editorial was written about it that focused on Mayor Walsh. It agreed nothing illegal was done but implied otherwise.  In the meantime Walsh had panicked and hired a former federal prosecutor who spent over twenty years in the Boston U.S. attorney's office. I wrote that was a mistake. By doing it Walsh was acting as if there was something wrong after all.
As predicted, the Globe and Herald  would say that Walsh "lawyered up" which is often taken as meaning he is hiding behind his lawyers. The people then ask why is he hiding?
To compound his error, Walsh's spokesperson and his lawyer Kelly suggest one of the reasons for Kelly's hiring is to interact with the federal prosecutors. One naturally wonders why is that necessary if there is no allegation of wrongdoing. Or, is there, as Globe columnist Shirley Leung wrote a federal investigation going on? If there is has a crime been committed?
Walsh now won't comment on anything according to Leung saying it's a "legal matter"making it seem there is a legitimate investigation going on. That's another mistake. It is a political matter. He should nip the whole thing in the bud, identify the caller, take appropriate action if anything needs to be done, and put this behind him.
That he isn't doing this makes me wonder if I am being naive when I think no crime has been committed by him. You see how Walsh is playing into the idea he did something wrong. Whoever is advising him is sending him to the wolves. He's a public figure who owes the public an explanation. If he won't give it the media will tar and feather him as it is doing. He's got to make his case or others will make it for him.
It was not only hiring a lawyer that was a mistake it was hiring Kelly who has only been a defense lawyer for a little more than a year. Walsh hired him because he is friends with the prosecutors. He hopes he can smother any incipient investigation or control it. The problem is Kelly is an amateur. He has no experience in handling the media as experienced defense counsel would have.
He had already talked too much doing a disservice to Walsh by suggesting he was needed for his federal connections. He then followed up digging Walsh in a deeper hole. His next faux pas was talking to Columnist Leung.
He said to her: "The city wants to be open about this and find out what happened here, . . . "  I thought we knew what happened. A telephone call was made telling of planned picketing. That was it. Is Kelly suggesting there is more to it than that?
Former Boston U.S. attorney Mike Sullivan told Leung ominously "They would not have put [the statement about the City of Boston] in there for no purpose at all." He added about Kelly: "He will leave no stone unturned. He will be very candid in his assessment."
Leung is already pushing Kelly to undermine the mayor. She wonders if "Kelly will act more like a defense attorney protecting the administration or a true third-party investigator working on behalf of the taxpayers who are paying his legal fees." Walsh better hope Kelly doesn't fall for that.  He better remind him he is not "a third-party investigator" but is hired as a defense attorney and there is an attorney/client privilege and also tell him that also applies to not disclosing anything to his buddies in Ortiz's office.
If Marty wasn't wondering if he brought a fox into the hen house then he surely is after Kelly walked blindly into Leung's left hook. She asked about transparency and he responded: "Transparency is always a good thing, ultimately it will be up to the city on what it wants to do." (my emphasis)  
Kelly just boxed in the mayor. If Marty doesn't, as Leung suggests, "make that answer clear by vowing to make all of Kelly's work public, no matter where it leads" then he won't be doing the good thing. And that will mean, according to Leung, that Walsh is not a "mayor for all."
Kelly has to learn he's not going around with Howie Carr putting on Crime Nights. He should shut up since he is not doing his client any favors. In the meantime Walsh should start talking if he's done nothing wrong. He must accept he is the mayor.  Mayors who run and hide end up losing the public support.
If he won't fight to clear his name the media will gladly blacken it. He should understand that he never was the type of person who the media liked. Right now what is up in the air is who will run the City of Boston, Mayor Walsh or the combine that is out to get him.