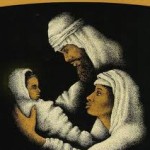 Lately there have been stories about the skin color of Jesus.  I recall that my Catholic catechism lessons taught me that I was made in the image and likeness of God. All those paintings of Jesus at the time of his birth he is portrayed in the image and likeness of the artist who created the painting. We have no pictures of Jesus so we can only guess what he looked like. We know he was born of Jewish parents who lived around Judea.
It shouldn't matter his color. If you are a follower of his teachings will you reject them if it turns out he wasn't the color you prefer?
So this is a time to put the arguments aside and to let everyone believe as they will. In as much as Christmas is a national holiday, I wish you all a Merry Christmas whether you are a Christian or not in the same way I wished you a Happy Thanksgiving whether you felt like giving thanks or not.  Enjoy the day and make it a peaceful one.
Oh, I can't quite end at that. This I am told is a true Christmas story. It came to pass in one of the years following the end of World War II that the Japanese began to hear more and more about the Christmas holiday in America. It seemed to many that it was a good idea and slowly the holiday spirit of Christmas came to Japan even though the people who believed in Christ can barely be measured and the knowledge of the average Japanese person about Christianity is similar to the knowledge of the average American about Shinto and Japanese Buddhism..
The Japanese love holidays so gift giving became the major part of the season. Gifts means merchants who provide them to willing customers and merchants who want to attract customers to their stores. So Christmas displays became common.
One merchant thought it appropriate to show what he believed to be the true meaning of Christmas in his store. He did a little studying of America and learned of the Santa Claus tradition and studied a little about Christ and learned of His life. Finally he came up with the manner in which he would decorate his store.
He had created this large figure which he thought was the perfect symbol of the day. He had it hidden under a large cloth covering. He then advertised that he would be taking off the cover at such and such a time on a certain date and suggested no one would want to miss this great event commemorating Christmas.
When the day came people crowded into his store and stared at the cloth colored object that was 20 feet high facing the main entrance of the store. Amid much fanfare the string holding up the cloth was cut. When the cloth dropped it showed a large crucified Santa Claus nailed to a large wooden cross.
Merry Christmas