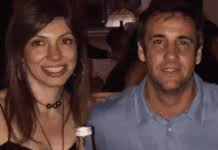 Mickey aka Michael Cohen had his day in court. The media had been telling us the prosecutors we're recommending  a "substantial sentence' of 51 to 63 months  (4 to 5 years) as set out in the sentencing guidelines. The prosecutors wrote: "Cohen sought to influence the election from the shadows … [he] clouded a process that Congress has painstakingly sought to keep transparent. The sentence imposed should reflect the seriousness of Cohen's brazen violations of the election laws and attempt to counter the public cynicism that may arise when individuals like Cohen act as if the political process belongs to the rich and powerful."
He also didn't pay his taxes owed and lied to Congress and defrauded banks. It doesn't take much Googling to find several folks sentenced to eight years for just tax fraud. So the judge gave Mickey 3 years.Seems like maybe the political process does belong to the rich and powerful. (We don't want to talk about Jeffrey Epstein's case yet.)
There's a total other dimension here though. Don't we have to ask why wasn't Mickey's wife Laura Shusterman also prosecuted. The Wall Street Journal reported on Monday that "prosecutors had evidence that also implicated Mr. Cohen's wife in potential criminal activity, according to people familiar with the matter. His wife was never charged."
Then there's this tweet from Mickey's client "He makes up stories to get a GREAT & ALREADY reduced deal for himself, and get… his wife and father-in-law (who has the money?) off Scott Free.'
Well it's true Laura Shusterman's father Fima did plead guilty in Federal court to crimes related to a money laundering. Remember Jimmy Katz of Whitey trial fame. He was a bookie who was charged with money laundering. The prosecutors locked him up for four years and moved to seize all his assets including his home throwing his wife and kids out on the street and into the poor house.
Mickey Cohen's father-in-law Fima Shusterman got probation. He was never brought back to a grand jury. He never had his family threatened with the poor house.
Speaking of Whitey, remember his girlfriend Catherine Greig. She was charged with aiding Whitey in his flight and lying to probation. (I'd suggest not as bad as lying to Congress.) How come she was charged and imprisoned and Laura Shusterman is not charged for her involvement in Mickey's crimes.
Mickey is charged with only a few of the many crimes he could have been charged with. He gets a marshmallow sentence. Catherine Greig gets slammed for falling in love.
Then there are the et al. Those familiar with Latin or the law know that stands for "the others." Others are usually women but can be other relatives.
No one is exercised over Laura not being charged because that is what is usually done. Wives and girlfriends normally get passes. We are a civilized nation understanding that if a person is in love with another we do not punish that person for the others crimes even if they may have incidentally profited from them.
We are not like North Korea where the family gets sent to labor camps or Israel where the family home of a Palestinian terrorist gets destroyed. Or Russia where the person disliked is poisoned along with his daughter.  Or even Saudi Arabia that likes to chop up people and make them disappear.  All four countries by the way which are highly admired by Cohen's client. In America we punish through the courts the main culprit and leave others alone.
That is how it should be. That is the normal way a decent society works. Nor is it sexist benefiting only women. If for instance Hillary were to be implicated in a crime we would not lock up Bill.
Or would we?