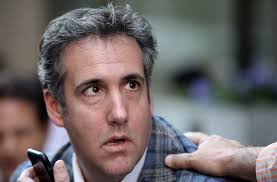 Mickey Cohen's, Trump's lawyer and fixer for over ten years is set to be sentenced to prison today. Bye, bye, Mickey. He admitted committing several felonies. He lied to Congress about his work for Trump in trying to get Moscow to approve a Trump building and several other things which were incorporated into one charge; he violated campaign finance laws by paying women for their silence about his client's dalliances with them; and he didn't pay taxes on much of his income, defrauded banks, among other things.
That's a pretty good bag of felonies which should deserve a pretty big hit. Mickey's problem is he's not a tough guy as he pretended to be. With his law ticket he worked for Trump bullying people. He was really tough against the little people who tried to collect money for work done for Trump. He'd frighten them off with talk that it would take little imagination that  it might not be in their best interest to pursue the case. After speaking with him even the dullest could see their choice was to drop the suit or take pennies on the dollar or perhaps finding themselves standing  under the Hudson River in their new concrete shoes. Oh, nothing specific was said, the ideas were conveyed in such a way that they'd never come back to bite.
Mickey sat behind his impressive mahogany desk in his lavish office and dressed impeccably used his smooth talk both to advance his client's interest and scare off litigants. He could do this because he made sure people knew he was connected. To Trump? No. Trump was being sued so the litigant didn't fear him.
Everyone knows Mickey cooperated against Trump. Like those people suing Trump, he was not afraid of Trump. So he threw him to the wolves turning on his client hoping to save himself. He also provided the necessary documents to support his betrayal of the guy who had given him an easy living.
His lawyers crowed in their sentencing memorandum about how well Mickey cooperated. Others wrote on his behalf telling what a good guy he was or still is. All asked the judge to keep him on the street. They wanted him to do no time in prison. After all he implicated his client in his crimes. His defense is: "My client made me do it!" That has never been a good defense for a lawyer.
The prosecutors then added their two cents to the judge about what Mickey's sentence should be. They told the judge Mickey was trying to con him. He never signed a cooperation agreement with them. He only cooperated in specific areas but not in others. They explained that with them you cooperate fully or not at all. In a lengthy filing they want the judge to hit him hard with a substantial prison sentence of four years.
When I heard that I said "that's substantial?" Then I thought how I've always believed Mickey wasn't a tough guy. I've been saying since day one that he was obviously not a guy who can do time. A week in prison for Mickey will be intolerable even if he goes to a country club or perhaps bunks in with Bernie Madoff. I'm betting money when the judge hits him he'll start crying.
Why then didn't Mickey cooperated fully? It was for the same reason he could conjure up frightful ideas in the minds of those suing his client. He was connected.
He's connected to the Russian Mafia. His uncle gave him a piece of a joint where they hang out. He has contact with its head in Brooklyn's Brighton Beach also known as Little Odessa as well as others. They are not such a nice group of people. Best not to cross them.
But what about Mickey's wife Laura Shusterman? More on that after we learn Mickey's sentence.