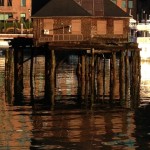 Today we started off with Robert Fitzpatrick. When I left you last I told you I was getting to like the guy a lot more because he stood up well to what one person said was a "withering"(sic) cross-examination. It was much less than that. So I looked forward to seeing what would happen today.
Fitzpatrick unlike the other FBI agents who I have seen testify did not show up yesterday wearing the expected FBI court dress: conservative suit, white shirt, and conservative tie. He wore a gray sports coat with black lines, a black shirt with gray stripes and an open collar. I notice in his picture I put on my blog he seems to have a penchant for black and gray shirts. Today he wore light gray suit with a black jersey.
Yesterday a few things happened that I didn't mention. Fitzpatrick never got a pension from the FBI for his more than 20 years service; both Morris and Connolly have received pensions. It shows you that the worst thing you can do in the FBI is embarrass the family by suggesting that other agents are otherwise than perfect.
The other thing a commenter name Declan pointed out was the use by the prosecution of a document, a letter from the Director of the FBI saying dreadfully negative things about Fitzpatrick. Fitzpatrick said he had an agreement with the government that would be sealed. Prosecutor Kelly said the agreement didn't cover that and went to retrieve it but couldn't find it.  Today Fitzpatrick said he was retaliated against when he was on the FBI for doing his job in telling the truth and when he testified yesterday and today he was again retaliated against by Prosecutor Kelly using the documents against him that were supposed to be sealed. Kelly never produced the agreement.
However, today we saw a strange Fitzpatrick. The case started with him putting forth an extraordinary suggestion. He said that what he wrote in his book were things that he remembered but that does not mean they were necessarily true.
He said what he wrote was a memoir. Whenever it was shown that what he wrote did not comply with actuality he'd say well that is what I remembered. Following his logic he could write that on 9/11/2001 it was a very quiet and peaceful day in New York City. When told that was the day the terrorists attacked America and the World Trade Towers were destroyed, he'd just say well I remember it otherwise.
He refuses to have an independent memory of anything. He did not remember what he testified yesterday. When asked about something he'd say do you have a memo regarding that? Kelly would hand him the memo. He then read the memo that Kelly gave him. After he does Kelly tries to pin him down to what he said before as being contrary to what he said today. He'll rationalize it into suggesting that opposite statements actually are the same thing.
He tells us he is going to write a memoir of the trial. How can someone write a book that he will allege to be factual but have as a bottom line whatever he remembers in his mind is factual?
Kelly had him pinned down in a trap with iron teeth and he'd manage to escape. But it was like he was wearing a nice shirt of truth when he came into the court and each time he escaped a little bit of the shirt was torn away. There was no killing blow but Kelly did enough to make one scratch her head at what the guy was all about.
It's seems axiomatic that the difference between being an informant and a cooperating witness is the former will not testify and the latter will. Ask Fitzpatrick about it and he says that is not his understanding. The question is does the jury know his understanding runs against what is the fact.
He wrote he was paid by the Gardner Museum to do work in looking into the heist that occurred there; Kelly asked him if he can show any evidence of that. He said that someone else paid him but he assumed it was the Gardner Museum.
Kelly tried to point out that some of the things he was now saying he did not say back in 1998 when questioned. He asked him if his memory was better now than back then. He said in some things his memory is better today. I guess in his new book the story line will depend on what day it is written.
When Whitey told him he had paid people, he was asked what he did about it. He said there were more important things to do. He did not necessarily think that if Whitey was paying cops or agents it was necessarily a bribe.
Kelly asked him if he was the Fitzie who was drinking Beck's beer with Whitey as set out in Whitey's memoirs. Fitzpatrick said he didn't drink Beck's beer and denied he socialized with Whitey. I was hoping he'd introduce the memoirs – no such luck.
Overall I'm tempted to say the testimony neither moved the case forward or backwards. Let's just put it this way: Fitzpatrick had no evidence relating to any of the crimes that were charged such as the murders, extortions, gaming, drug dealings or stuff like that.
So what purpose did he serve? It all was about the way the FBI operated and his relation to Connolly. But neither those issues are on trial. It did touch upon the issues of Whitey being an informant but that came out muddled. He kept talking about closing him out and Washington DC headquarters wanting to keep him open which would lead to the conclusion Whitey was an informant. This was good for the government. But the government pushed him on the issue that there is no evidence he wanted to close him out.
Why does the government care? Whether he tried to close him or not, it seems that he is an informant and that's what the government wants to show.
This case easily gets thrown off track. We've wasted a day and a half paddling at two miles an hour against a current running at two miles an hour. You know how far that will get us.