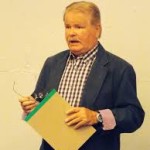 We heard from ex-FBI agent Robert Fitzpatrick age 73 who came to Boston in January 1981. He was in charge of among other things the C-3 unit. When he came to Boston the C-3 unit was just starting up the wiretap on Gerry Angiulo's Mafia group along with that of Larry Baione. This wiretap would run into April, 1981. Morris testified that the whole C-3 unit was involved in doing that wiretap as would be the case considering what was being done. Fitzpatrick testified about his time in the office during this period and he had not mentioned this.
Just before he left the stand for the morning break we were talking about the Wheeler homicide and how the FBI Boston, FBI Tulsa and FBI Miami were investigating the case. Fitzpatrick said that presented a problem because they would have to reveal that Whitey was an informant. He then said:  in the FBI "the informant identity is sacrosanct – revealing an informant's identity is the worst thing that you can do."  It would turn out Fitzpatrick would write and book about his time in the FBI telling how he was the one who was the "FBI Agent Who Fought To Bring Him [Whitey Bulger] Down." There he tells of meeting Dick Lehr on the beach. He tells us that he told Lehr the whole story about Whitey. In effect, here he is telling us that he violated what was most sacrosanct to the FBI.
Much of Fitzpatrick's testimony which is all we've heard about so far involves stories about the wonderful things that he did. He was involved in the arrest of Mafia gangster Carlos Marcello in New Orleans who had words with an FBI agent and found himself lying on the ground after the FBI agent threw an elbow at him or something like that. He said Marcello was coming off a plane having just come back from Cuba, which couldn't have happened in 1966 since such flights were banned. I don't know what Marcello was arrested for. Fitzpatrick didn't tell us.
He was involved in uncovering the "Silver Dollar Club" a secret group within the KKK – he stopped the bombing of a synagogue, got into a gun fight with the bomber who sprayed everyone with a machine gun, his girl got killed sitting in the car, he escaped but eventually was captured.
He didn't tell us about his pursuit of James Earl Raye but did go into his role in the ABSCAM affair where they nabbed a US Senator even though FBI headquarters initially wanted to shut it down. He then went to FBI headquarters where he was involved in transferring everyone from station to station; and he also was involved in some type of profiling people and studying their movements.
He was sent to Boston as ASAC because there were problems here. One of his first things was to visit with Whitey who treated him horribly. He said Whitey indicated to him that he had no intention of testifying which surprised him because informants are expected to testify. That to me was a surprise. He said he couldn't look into Whitey's soul because he wore sun glasses and the room was dark. When he saw John Connolly at Whitey's condo he got upset about it but never confronted Connolly over it but complained to Morris.
He tells a very strange story. I can't tell how it is going over with the jury because I know too much about it. I know there is a great danger in Whitey using him if the prosecution cross-examines him. He tells a vicious story about his visit with Billy Bulger in his book which if the prosecution brings out will be the highlight of his testimony. The prosecution has called him a serious historical revisionist.
Time to go back. This could be good.