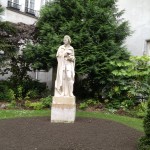 FBI Agent Todd Richards started off the day by talking of a meeting he had with Kevin Hayes. The issue boiled down to whether when Mick Murray called Hayes and said to him that "Kevin Weeks wanted to meet him right away," or did he say as Hayes testified, "Kevin Weeks and Whitey wanted to meet him right away."  Don't you think that was an important issue? Does anyone remember why Kevin Hayes was going to the meeting or what happened at the meeting?
The next witness to testify was retired FBI Agent Matthew Cronin. He came in dressed in a suit, dress shirt and tie, as I'd expect an FBI agent would dress when in court. (Same as Richards,)
Cronin was in the C-7 unit that did thefts and stolen property investigations. He'd come from ten years in New York City which is the biggest office in the country. He said as soon as he got here things felt different. In New York everyone minded their own business while in Boston it seemed everyone was minding everyone else's business. He felt uncomfortable with the atmosphere.
His first eye-opening came when he went out to meet with the state and local police which was part of what his job entailed. He found there was a strong sentiment among them that there was a leak in the office and they identified the leak as John Connolly. He said it caused a great uneasiness in the office and he had to operate close to the vest because of the distrust. He said he would not put things in writing because he didn't know what would happen to them.
He talked to his partner Jim Crawford about it and to his supervisor. When asked why when nothing was done he didn't go higher he pointed out that you had to follow the chain of command. He said it just wasn't wise to go outside of it if you were concerned with keeping your job.
This all goes into the ideas I've been writing about for a while as I said in my book Don't Embarrass The Family that the FBI has a lot of good agents but its structure makes them ineffective. It's almost like the leadership doesn't want to know there are any problems so everyone who sees something wrong has to walk around with her mouth shut for to do otherwise will result in some sort of punishment. We see that in the almost three-month investigation of the homicide of a man by an FBI agent in a room in front of other law enforcement officers, an investigation that should have taken three days at the most.
The FBI operates in a world of fright. Everyone is frightened to step out of line. It's quite a tragedy and something that is not good for our country. I see Congressman Keating is looking for answers from the FBI as to what happened at the time of the Marathon Terrorist Attack; he should talk to his fellow Massachusetts Congressman Lynch who has been waiting for two years for an investigation to finish up which is supposed to tell him into why Mark Rossetti a capo in the Mafia was a top echelon informant for the FBI. If our Congressman are afraid of the FBI, and the agents are afraid of the FBI, who is it that wields all this power to bring about this horrid state of affairs.
Cronin gave a slight indication of how things work when he and his partner went to see Jeremiah O'Sullivan about a leak problem. He said the conversation went from him feeling pleasant to angry. Why did he get angry? O'Sullivan threw him out of his office.  Makes you feel good about all this stuff going on.
Then he tells how he was the affiant in a wiretap for Heller's Cafe, a successful federal wiretap done on Mike London who had a little gambling going on at his place but his main business was to wash money, he was mentioned as the guy who'd cash checks for the bookies. One witness said how he would have his clients make out the checks to "Ted Williams" or "Yogi Berra" and London would cash them.
Cronin went on to say that he had a three-phase investigation: Heller's, Vinny Ferrara; and Whitey Bulger. He said he did Heller's and after that Morris removed him from the case. The thread of protection of Whitey and distrust of Connolly ran throughout the early part of his testimony.
Later he got into the times, six times he said, when he met Olga Davis, the mother of Deborah Davis.She told them her daughter was missing and expressed her concern that Flemmi had murdered her and also told them she believed Flemmi had murdered her husband. It seemed Cronin and Crawford made an effort to look into the disappearance but did not do any work with respect to Flemmi. Cronin said Flemmi was organized crime and that was the job of another squad.
Of interest Cronin never reduced anything Olga told him to writing. He felt that her safety was at risk and didn't want anyone to know she was talking with him. He wouldn't go so far as to say he thought if it was in writing it'd be leaked out to Flemmi, but it seemed clear that was his fear.
He talked about how he tried to have Olga confront Flemmi on a recorded phone line but she seemed reluctant. He mentioned that there was or had been a wiretap on the Davis home in Randolph around that time. That might have been a wiretap I had done on that house although I did not think the FBI was involved in it.
The pre-morning recess ended with prosecutor Kelly asking Cronin the following question: "If someone does a lousy job investigating a case that doesn't give someone the right to murder someone, does it?"
That question shows the level this case has descended to.