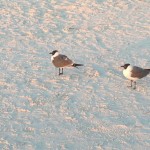 I thought we would kick off the day learning the judge's decision on the prosecutors' motion to cut down on the number of defense witness the defendant could call. The judge kicked it down to after Flemmi finished his testimony.
I wrote earlier "enough already" well I was wrong.  Brennan made some more headway in important ways with Flemmi.
But first let me say this. I've been saying that Wyshak is on this crusade, aided by the media, to damage Billy Bulger's reputation. Any opportunity he has to mention Billy's name he will jump at. Again he did it today which should lay aside any thought that he is otherwise motivated by his hatred of "the Bulgers and Southie. "
On redirect examination he asked Flemmi if Billy Bulger showed up at the house of Flemmi's mother when he was meeting there with FBI agents Ring and Connolly.  His witness had been beaten down to a bloody pulp and during the chance he has to put a few bandages back on him he want to get a headline out of smearing Billy again. Leave all doubts aside as to what motivates this man.
But back to Brennan. He quickly went into the plea agreements with Flemmi and dragged out of Flemmi that in the first agreement he was allowed to keep about five or six condos, a couple of houses, a business and the land it sat on, and several bank accounts. He then showed that was incorporated into the 2003 agreement to show Flemmi's incentive to testify. He emphasized that both the Florida and Oklahoma DAs agreed not to seek the death penalty when he entered a plea of guilty.
As part of the agreements Brennan asked Flemmi if he knew about Rule 35 motions.  Those motions allow the government to reduce a person's sentence if he gives substantial cooperation to the government. Flemmi said everyone in the system knew about them. Brennan then pointed out that the Florida plea that Flemmi made to the first degree charge would be changed if the government filed a Rule 35 motion to time served.
Wyshak made the point that such a motion has to be filed within one year and that there was no agreement between him and Flemmi about filing such a motion. Wyshak made it clear that Flemmi expected to spend the rest of his life in prison but Brennan pointed out that Flemmi still had a hope of getting out some day.
He also got into Flemmi having different stories about whether he spoke to Nee about the Halloran murder. Flemmi testified that he never talked about it; and he also testified that Nee told him the gun jammed. He insisted that both statements are true.  I guess as he told us, we don't know what it is like in the real world. Apparently in that world opposites can be the same.
That was a good point to leave it at and that's what Brennan did.
Then, as mentioned, Wyshak got up on redirect. He seemed more intent on having Flemmi say negative things about the FBI than any issues which may have come up at trial. At least he had enough sense to realize Flemmi had enough holes in him from Trigger Brennan,or as some others call him Machine Gun Brennan, that he had bled out and there was only one thing left to do. He called for the stretcher bearers to come in and have that presence taken from our sight.
We took a short recess after that and the government presented its next witness who was Kevin O'Neill –  most of the questions dealt with his real estate transactions and the washing of money to Whitey through bank accounts – I sometimes get confused here wondering why so much time is being spent on Whitey's money laundering activities.  O'Neil is a tough guy – he's big and close to obese – but he gives one world answers to the questions.
When asked why he put Whitey on the payroll when he didn't work he said: "It was not smart not to."  When asked about Whitey's reputation he said, "he was not a guy to fool with."  Later asked why he didn't take him off the payroll, he said "it would be foolish to take him off." Asked to describe the type of business Whitey and Stevie were partners in, he answered: "Whatever."
I'm not sure what O'Neill adds to the case but he helps prolong the time to the date of judgment for Whitey which I'm not sure is in the government's interest.