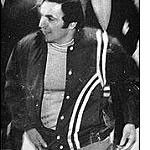 Early on Brennan was all over Flemmi.  Flemmi thought there was nothing wrong with having sex with his step daughter because she had changed since he went away. She was a different person, he pleaded. He became attracted to her when she was 17 or 18 and he was 40 or so. He kept saying it was consensual.
Brennan did not hold the hammer back at any moment. He took Flemmi slowly through how he took his step daughter (Wyshak complained about his using the term "the girl who called you daddy") to her death.  Flemmi kept trying to put it on Whitey but Brennan had him going shopping with him prior to her murder:
"Did you think it was nice to go shopping with your step-daughter just before bringing her to be murdered?"
"Did you drive her to the place she would be murdered?"
"You could have stopped the murder at any time by stopping the car."
Flemmi said he tried to stop it before. He gave her money to go to California, Chicago and Florida but she kept coming back. It was as if she was responsible for her own death by her coming back to her mother's house.  Brennan asked him if somehow having given her money that makes him less responsible for her death.
Brennan got into him walking up the walkway to the house to bring his step daughter to her death. He told him that he could he have stopped it. Flemmi said all Whitey had to do was to say "PASS" and we would have let her go. He continually sought to blame Whitey.
Brennan asked him if he was a pedophile and he said, "if you want to see a pedophile look at that table there" indicating toward Bulger.
Brennan was relentless in his examination as I hoped he would be. He even went into the questions of how many teeth he pulled out of her head and showed him the forensic anthropological photo with Flemmi answering "I don't even want to look at that."
He dragged Flemmi through all the inconsistencies in the murder of Debbie Davis. Flemmi tells it that it was a traumatic experience and he doesn't remember why he yelled out "let her pray" after she was already dead.  Like with Deborah Hussey Brennan had him putting a rope and not having a rope in the hands of Whitey at the time of her murder. Flemmi begs off saying he can't remember everything well. It as traumatic. He's playing into Brennan's hands.
Flemmi has never taken the heat like this before. Judge Casper had to tell him to answer the questions and he said, "I'm sorry judge, I get a little emotional here." Brennan is now taking him through the relationship with Debbie Davis who was 17 when he met her. He gave her cars. Brennan brought our how Debbie's father objected to his relationship with him and then how her father ended up dead. Flemmi said "I know what you are trying to insinuate, that's off the wall."
Earlier Flemmi said to Brennan when Brennan asked him if his mother and father knew he was meeting with Connolly,  "You asking me if I killed my parents. That's a ridiculous question."
Flemmi is very wary of Brennan. He knows he has been shown to be the lying hoodlum dirtball slime he is.  He has come out looking as bad as a witness could look.  Anytime he tries to get off the hook Brennan asks him why he is bringing something irrelevant up as if to suggest that those things condoned the murder.
There would be few people would believe anything Flemmi says after hearing him testify on this cross-examination. Just think how many people have had their lives destroyed because people in the media have spread his tales as if coming from a reliable or accurate source. Just think of Retired FBI Agent Paul Rico who has been continually libeled by Flemmi.
It is not a matter of picking and choosing what part of a witnesses testimony to believe. It is not a matter of writing a book based on the lies of a horrid man as if they were true. We see here the value of cross-examination as the only way to ferret out a person's character when done by a skillful lawyer.
There are some people who are so evil and discredited that everything they say must be considered a falsehood and anything based on their testimony should be considered equally false.
I've never heard it done but it should be done in this case. The judge should take judicial notice that Flemmi is an inveterate liar and everything he testified to must be stricken from the minds of the jurors.
Got to get back to the trial.