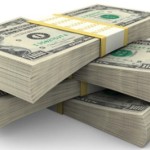 The words of one of my favorite songs growing up were: "The landlord rang my front door bell; I let it ring for a long, long spell, I went to the window, peeked through the blind, I asked him to tell me what was on his mind. He said: "Money, honey"
I wrote how the Red Sox owners came up with the idea which is to get rid of the big salary players and put minimum wage guys on the field in their place. The Sox this year decided to throw the rest of the season by unloading some of their best players. At the beginning of the year they sold season tickets on the premise they'd compete all year long but then threw in the sponge half way through the season. They saved oodles of money dumping those big salaries; they also kept the big money paid by the season ticket holders. It was a win-win for John Henry the Sox owner; it was a lose-lose for those who paid for a full season and only got a half of season, the fans. Oh yes, it was all about Money, honey.
When the Boston baseball team worked its magic, Mr. Kraft of the New England Patriot's football team watched in awe. The message was clear. He too could follow them. The seasons tickets were sold out. He could get rid of the big salaries and go with the lesser ones. His team didn't have to compete every year. Just every so often. The fans will pay full price whether you put a good team on the field or not.
It was only two or three years ago when Mr.Kraft said: "One of the things I'm most proud of coming into the season is we knew this was coming, and we made an effort to tie up our key veterans, people like (Tom) Brady, (Stephen) Gostkowski and Vince Wilfork, . . .I hope that us locking up our core veterans and bringing in these seasoned veterans, and probably you'll see our good friend Logan Mankins will be signed up soon — hopefully to be a Patriot for life . . . " 
How things have changed.
Mr. Kraft has been agonizing for a while that Logan Mankins is being paid big bucks especially since Mankins in not a suck-up type guy. He never felt truly appreciated by Mankins an all-pro offensive tackle making six million or so. Mankins had held out for several months forcing Mr. Kraft to pay more than he wanted to pay. He decided to dump him. Following the Red Sox idea, he told his staff to find a guy making the minimum salary of about a half million.
You don't have to be Einstein to see such a swap immediately puts $6 million in his pocket. So what if the other guy is an undrafted free agent who played one year. Mr. Kraft knew the sports writers who cover his team who like all the bennies they get from him and fear his wrath will make it sound like a good deal. And, he always has his loyal employee and good soldier Bill Belichick who will take the hit if things don't work out. It's a win-win for Mr. Kraft. It's a less competitive team for the fans. It's the Money, honey.
The song goes on: "Well I was lean and mean and real hard pressed. I went to the woman who I loved best. I said tell me honey, face to face. How can another man take my place? She said: "Money, honey."
Bill Belichick is quoted as saying: "Logan Mankins is everything we would ever want in a football player. It is hard to imagine a better player at his position, a tougher competitor or a person to represent our program. He is one of the all-time great Patriots and the best guard I ever coached. Logan brought a quiet but unmistakable presence and leadership that will be impossible to duplicate."
If that's the case, you might ask, "why are you getting rid of him?" Bill answered: "we feel [it] is in the best interests of the team." How can it be in the best interest of the team to give up that type of player?  If Bill was interested in telling the truth he should have answered, "Money, honey."
I'd suggest that Vince Wilfork did not have a good sleep last night. Vince Wilfork's contract in 2014 is a sucker's "pay for play" one. He's paid by the game and number of defensive snaps he's on the field for. He dreamt of hearing Mr. Kraft telling his loyal soldier Bill to hold him out of the games so he doesn't make his snap bonus.
Aside from that, Wilfork walked into a trap. There's a crafty provision that give him a $4 million roster bonus due on the first day of the 2015. Who wants to bet that he'll be around to pick that up. So say goodbye to Vince. Just tell him it's the: Money, honey!
That leaves Tom Brady. He's also costing big money. Tom loves the game but he doesn't need it anymore. He can make more off the field now than on it. He can even be a stay-at-home dad since his wife makes good money.
He's got to be upset Mankins is gone. He knows that taking a bull like that out of the line in front of him increases his chance of injury. Having had the knee injury, he knows how vulnerable he is. Brady, like the man in the song, might be tempted to go up to Mr. Kraft and say: "How can another quarterback take my place? Mr. Kraft will just smile and say: "Money, honey!"