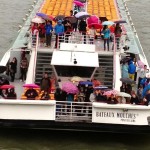 The weird thing that happens is that Morris tells Agent Quinn who works under him to rewrite his affidavit. The purpose is to commit a fraud. Morris wants to include Whitey and Stevie in the affidavit, as informants. They are put in and disguised by a designation such as "Informant A-4". They are not necessary to getting the order but are included so that they can be advised of the wiretap and cut their ties with Angiulo and his group during the electronic bugging operation.  Right off the bat the true picture of the Angiulo operation will be distorted and the agents will not be getting the full information that they should be getting.
During the interception, Morris and Connolly meet with Stevie and Whitey. They have their usual few glasses of wine, or at least Morris does, earning him the nickname Vino.  Stevie and Whitey are very abstemious when it comes to imbibing in alcohol. They play some of the tapes from the wiretap for the gangsters to listen to.  These are outrageous violations of Title III and they had the high potential of undermining all the guys in Morris' unit who are working hard on the bug.
Morris begins to take what he says are gifts from the gangsters; cases of wine, cases of wine with $1000 in it; $1000 to fly girlfriend to New York; and special dinners with Whitey and Stevie. He becomes a rising star in the FBI. He was sent to Miami to oversee an FBI investigation of an FBI agent taking payoffs from criminals, like what he was doing. He successfully did that job and returned to Boston.
He was eventually made supervisor of another group of agents in 1988. This group had developed a case of a cop being paid off by a bookie named Baharian.  Aside from him, Stevie Flemmi is a target. Morris again has no trouble undermining the agents working under him.  He tells Stevie and Whitey about the wiretap. Whitey gives him $5000.  Life's good for John Morris.
Then he gets this odd feeling that maybe it isn't as good as he'd like to think. He begins to realize that once you get in bed with these gangsters it's difficult getting out. They start wanting more and more. Sleep at night becomes more fretful. Morris worries about the last $5000 and starts to get the idea that perhaps his pal Whitey, the guy who calls him Machiavellian (and you have to wonder what Morris was doing for Whitey to get that cognomen) recorded that conversation.
Here's when he comes up with the idea of getting Whitey killed. He meets with the Boston  Globe's Gerry O'Neil, who will become his good friend, and tells him Whitey is an informant.  He has a spiel prepared about how that is bad for everyone, etc.  O'Neil sees a big story. He gets together with others to verify the story. O'Neil's partner Lehr reaches out to former ASAC in the Boston office, Fitzpatrick  who confirms the story. At Whitey trial Agent Marra will say it is the prosecution belief that Fitzpatrick is not credible and is a serious revisionist of history. I suggested something to that effect a long time ago when I first reviewed Fitzpatrick's book.
The Globe in the fall of 1988 at Morris's behest discloses Whitey has a special relationship with the FBI. The Globe then starts writing other information about FBI doings, especially as they relate to Billy Bulger. Within a couple of months the Globe went from praising Billy to condemning him. A common ingredient in this sudden shift is Morris and Fitzpatrick feeding information to the Globe.
The FBI starts to realize some of its inner secrets are being released. It investigates and determines the Morris is the culprit. It confronts him. He lies. It confronts him again. He lies. Then despite his lies, and remember this is all kept in house, it determines correctly he was the one who did it. He gets a slap on his hand and his career goes on but now he knows he'll never be an FBI star or one of the inside guys at the top in DC. He becomes an ASAC in LA in California and then goes to Quantico, Virginia. He's just playing out the string when he learns his former pals, Whitey and Stevie are under indictment in Boston.
He knows they have the goods on him. He bides his time anxiously absorbing every bit of news he can get. He learns Stevie has said he was given the OK by the FBI's Morris and Connolly to commit the crimes in return for becoming an informant. This puts Morris, the supervisor, squarely in the bull's eye. He knows now the race is on because the government will want to rebut Stevie's assertion, which it really never had to do.  It thinks it needs Morris or Connolly on its side.
The most likely target should be the supervisor but Morris has friends with connections to the prosecutor. He jumps first at the opportunity to get into the federal boat by blaming Connolly for everything.  He walks with his pension; Connolly does life in prison.
Ironically, he testified today he works part-time as a wine consultant and wine educator. He showed no appreciation that he got his start in that business with the nice wines Whitey used to buy for him.  The gangsters appropriately named him Vino.