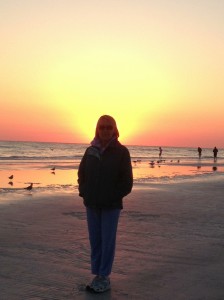 I started yesterday off not the best way. I saw the mother of our children a couple of times before wishing her a happy mother's day.  I figured she'd remind me of my tardiness later. We don't exchange gifts on either that day or father's day. She once said many years ago on the latter day "you're not my father." So we left it up to the children (and now grandchildren) to bestow gifts on us which usually are in the form of some art work which each one created.
Of course as they moved beyond the younger ages there was some minor gifts beyond their handiwork, although at times we were surprised at their cleverness and generosity. You may wonder when she later reminded me of my tardiness whether I would reply: "You're not my mother" but wonder no more. I didn't. That would be treading on too treacherous grounds.
Having already committed one faux pas, we headed off to see our grandson's soccer game. I got us lost being unable to follow simple directions. We arrived there on time to catch him leaving with his backpack. The game had ended. I duly accepted responsibility under the withering cross-examination by my son who could not believe I was so obtuse.
Then we went for brunch at my daughter's house. The cloud over my head lifted with the wonderful food she and her husband lavished upon us. Olives, 4 select cheeses, etc as appetizers. Then halibut wrapped in prosciutto, frittatas, sword fish, my son's salad. Eating out on her patio surrounded by the blossoms of spring and good fellowship made the day delightful.
Prior to the feast I spent time with her seven year old son planning out our summer excursions. He designed the plans for our special spaces we planned to occupy. We have to buy laser alarms to protect ourselves from others who might want to intrude on us.
Then we were off to another grandson's lacrosse game. There we joined our other son and his wife and their daughter watching our team get beat badly by much superior team which had to be full of ringers.
Lacrosse may be fun to play but watching it provides little excitement. Maybe I think that because of the lopsided scores. Or because my grandson didn't get the ball often.
Both of the grandchildren at the game had gifts for their grandmother (Baba). After some chitchat we separated.
By this point the heavy meal was catching up with me as I sluggishly made my way from the game.  But desert was in the offing back at my daughter's so we made our way there. It was white cake layered with strawberries and whipped cream. It was painful turning down a second helping.
Fortunately the clumsy start was forgotten about and thanks to my daughter's cooking and presentation and the thoughtful acts of our kids and grandkids a fine mother's day was had by all.
I hope you too had one.