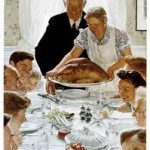 Whitey will leave our fair state in less than a month spending Thanksgiving in a cell somewhere in America. I'm sure his meal will be reminiscent of one I had when I found myself and two other Marine officers stranded one Thanksgiving at the Iwakuni Air Station in Japan back in the '60s with $1.65 among the three of us. As officers, we had to pay for our meals. Our intent was to eat at the officer's club which was to have a lavish meal for around $5.00 a person.
On Thanksgiving eve, the three of us spent the night at the officer's club having some beer. As the night wore on my money slowly vanished so I headed back to the BOQ (bachelors quarters). I didn't worry that I was broke because I knew Frank Acuri, one of the others, had a pocket full of dollars. We slept in late Thanksgiving morning. When we assembled, I learned Frank after having a few more beers felt lucky so he started playing the one-armed bandits. He lost all the money we were depending on to have a decent meal.
That's why we found ourselves at the airstrip in the only place that was open which was a cafeteria. We were able to get a meal for 50 cents and a cup of coffee for 5 cents. The meal was a thin slice of turkey, an ice cream scoop worth of mashed potatoes, a tablespoon of gravy and some peas. The best part of the meal was the hot coffee.
I'm sure Whitey's meal won't be quite as bad. Yet I don't expect it to be accompanied by any ruffles and flourishes. That's what he's reaped for his many years of sowing evil. What little does it profit a man to revel in crime and end up losing his freedom.
I said Whitey will be somewhere in America. It could be one of many places. He has yet to face the murder charges in Oklahoma where he is accused of murdering fifty-five year old Roger Wheeler; or Florida where he's charged with murdering gangster groupy John Callahan. Actually they were actually murdered by John Martorano — he's the one who pulled the trigger. In both cases Whitey was more than a thousand miles away. But as an allegedly willing partner he is equally responsible.
Or, Whitey could end up in the custody of the Bureau of Prisons. He is high on the POOF list. BOP will send him to what has been called a cleaner version of Hell, ADX, Florence, Colorado.
What then happens to a blog entitled "thetrialofwhiteybulger" after the trial is over and he's gone to his earthly reward. It can limp along and file reports on how he is doing in prison. He still may be able to write some letters out to some people reinventing his past telling of his present grievances. But I would hope when he's gone it's time to recognize there is no longer anything of interest concerning the man.
What does remain however is to analyze how such a criminal became this exalted figure. I've committed myself to giving a talk on Whitey to a small group of people in the middle of November and I've been sort of thinking what to say.  That is why I am doing a retrospective review of what its all about. This accounts for the few posts I've published. I've been doing much reading and even with there to be candid there is little about Whitey now that is post worthy.
I did come across this article in the Washington Post that I found fascinating and urge you to read it. It explains in large part the Whitey Bulger phenomenon. In discussing the new media undertaking by Glenn Greenwald it states:
"There's too much information out there for most people to pay attention to, let alone figure out whether they believe it or not. Hence, most people rely on other institutions such as media organizations to tell them which information is worth caring about. Not only do people not pay much attention to information until it gets the stamp of approval from some authoritative institution, but this information is transformed, because everybody knows that everybody else is paying attention to it. It stops being mere information, and becomes knowledge — generally accepted facts that people use to build their understanding of what everybody knows about politics.
Established newspapers like the New York Times, The Washington Post and the Financial Times play a crucial sociological role in deciding which information is important and trustworthy, and which is not. When one of these newspapers publishes information, it is legitimated as knowledge — which people are not only more likely to take seriously themselves, but may have to take seriously, because they know that other people are taking it seriously."
In other words, the local media played the tune that Whitey was numero uno gangster and the readership not wanting to be considered ignorami joined in the dance.
The article note further:  "Newspapers — even the most pioneering ones — have political relationships with governments, which make them nervous about publishing (and hence validating) certain kinds of information. . . . because newspapers play a crucial political role in validating knowledge, they have complicated relationships with governments and politicians. . . . If governments start to lose control over public knowledge in the information age, it won't be because information "wants to be free." It'll be because of the creation of new ventures like this, that create public knowledge without adhering to the old rules about how government has a voice in deciding what gets published and what doesn't."
Of course, as we know there is another side of that coin, which we saw in the lead up to the Iraq war where the government planted stories in the media and then responded by pointing to their own stories as verifying their actions; and, as we see with Whitey where the local media establishes the story of who is the baddest and the U.S. Attorney blindly and blithely follows along.